Fabrizio Crestani tops Barcelona GP2 test for new team Lazarus
| | |
| --- | --- |
| | Tuesday, March 6th 2012, 16:58 GMT |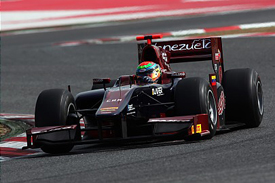 Fabrizio Crestani set a surprise fastest time for GP2 newcomer Lazarus on day one of this week's Catalunya test.
The Auto GP graduate lapped in 1m29.420s in the morning session, and his time stood as the quickest of the day. Max Chilton was fastest for Carlin in the slightly slower afternoon session.
iSport's Jolyon Palmer was Crestani's closest challenger in the morning, 0.2 seconds behind, and ahead of Stephane Richelmi (Trident), Rio Haryanto (Carlin) and Stefano Coletti (Coloni).
Trident's Julian Leal got within 0.015s of Chilton in the afternoon, with Marcus Ericsson third for iSport, and Coletti next up ahead of James Calado (Lotus).
Last week's Jerez pacesetter Davide Valsecchi was sixth and seventh in the two sessions for DAMS.
Valsecchi's team-mate Felipe Nasr caused one of three stoppages when he went into the gravel this afternoon. The morning had ended slightly early when both recent Racing Engineering re-signing Nathanael Berthon and Leal stopped on course, while the afternoon's second red flag came when Fabio Onidi spun his Coloni car.
Lazarus tried Venezuela's Giancarlo Serenelli in its second car today, while Rapax - which has yet to confirm any drivers for 2012 - ran GP2 returnee Ricardo Teixeira and former Formula Renault 3.5 driver Sergio Canamasas.
Jon Lancaster confirmed a deal with Ocean today, and joined the field for the afternoon, when he was 18th.
Arden's Luiz Razia sat out the sessions due to illness.
Morning session:

Pos  Driver               Team                Time       Gap
 1.  Fabrizio Crestani    Lazarus             1m29.420s
 2.  Jolyon Palmer        iSport              1m29.645s  + 0.225s
 3.  Stephane Richelmi    Trident             1m29.658s  + 0.238s
 4.  Rio Haryanto         Carlin              1m29.673s  + 0.253s
 5.  Stefano Coletti      Coloni              1m29.713s  + 0.293s
 6.  Davide Valsecchi     DAMS                1m29.726s  + 0.306s
 7.  Julian Leal          Trident             1m29.743s  + 0.323s
 8.  Giedo van der Garde  Caterham            1m29.750s  + 0.330s
 9.  Max Chilton          Carlin              1m29.774s  + 0.354s
10.  Simon Trummer        Arden               1m29.892s  + 0.472s
11.  Esteban Gutierrez    Lotus               1m29.932s  + 0.512s
12.  Marcus Ericsson      iSport              1m29.994s  + 0.574s
13.  James Calado         Lotus               1m30.245s  + 0.825s
14.  Fabio Leimer         Racing Engineering  1m30.356s  + 0.936s
15.  Fabio Onidi          Coloni              1m30.366s  + 0.946s
16.  Nigel Melker         Ocean               1m30.703s  + 1.283s
17.  Johnny Cecotto       Addax               1m30.726s  + 1.306s
18.  Nathanael Berthon    Racing Engineering  1m30.861s  + 1.441s
19.  Felipe Nasr          DAMS                1m30.907s  + 1.487s
20.  Josef Kral           Addax               1m31.606s  + 2.186s
21.  Rodolfo Gonzalez     Caterham            1m32.472s  + 3.052s
22.  Sergio Canamasas     Rapax               1m32.662s  + 3.242s
23.  Ricardo Teixeira     Rapax               1m33.189s  + 3.769s
24.  Giancarlo Serenelli  Lazarus             1m35.588s  + 6.168s

Afternoon session:

Pos  Driver               Team                Time       Gap
 1.  Max Chilton          Carlin              1m29.479s
 2.  Julian Leal          Trident             1m29.494s  + 0.015s
 3.  Marcus Ericsson      iSport              1m29.605s  + 0.126s
 4.  Stefano Coletti      Coloni              1m29.687s  + 0.208s
 5.  James Calado         Lotus               1m29.740s  + 0.261s
 6.  Giedo van der Garde  Caterham            1m29.769s  + 0.290s
 7.  Davide Valsecchi     DAMS                1m29.877s  + 0.398s
 8.  Esteban Gutierrez    Lotus               1m29.902s  + 0.423s
 9.  Johnny Cecotto       Addax               1m29.947s  + 0.468s
10.  Simon Trummer        Arden               1m29.980s  + 0.501s
11.  Nathanael Berthon    Racing Engineering  1m30.014s  + 0.535s
12.  Fabio Leimer         Racing Engineering  1m30.053s  + 0.574s
13.  Fabio Onidi          Coloni              1m30.311s  + 0.832s
14.  Jolyon Palmer        iSport              1m30.323s  + 0.844s
15.  Felipe Nasr          DAMS                1m30.393s  + 0.914s
16.  Stephane Richelmi    Trident             1m30.577s  + 1.098s
17.  Nigel Melker         Ocean               1m30.603s  + 1.124s
18.  Jon Lancaster        Ocean               1m30.715s  + 1.236s
19.  Sergio Canamasas     Rapax               1m31.468s  + 1.989s
20.  Rio Haryanto         Carlin              1m31.646s  + 2.167s
21.  Josef Kral           Addax               1m31.696s  + 2.217s
22.  Rodolfo Gonzalez     Caterham            1m31.967s  + 2.488s
23.  Ricardo Teixeira     Rapax               1m32.613s  + 3.134s
24.  Fabrizio Crestani    Lazarus             1m33.456s  + 3.977s
25.  Giancarlo Serenelli  Lazarus             1m35.420s  + 5.941s