Ullrich believes Audi, Peugeot domination not down to diesel rules advantage
| | |
| --- | --- |
| By Matt Beer | Monday, March 5th 2012, 10:27 GMT |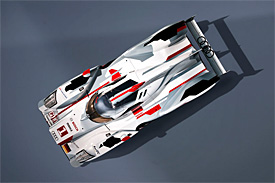 Audi motorsport chief Wolfgang Ullrich believes diesel technology's recent domination of sportscar racing happened because his team and Peugeot did too good a job, not because the rules favoured diesel power.
The balance between alternative engine types has been a contentious topic in Le Mans racing ever since Audi's first diesel LMP1 emerged in 2006, and diesels have been further restricted this year, when Audi will enter both the latest version of its diesel R18 and a new hybrid.
Ullrich believes the diesel advantage was accentuated in recent seasons because no major manufacturers were running petrol engines - making it impossible to judge how much of Audi and Peugeot's superiority was down to their status as the sport's largest teams, and how much due to them running diesels.
"The ACO and FIA are faced with a very difficult task here," said Ullrich. "The more different technologies there are in the game the more difficult it becomes to correlate them all.
"The biggest problem is that the Audi and Peugeot diesel cars were in a class of their own over the last few years - and not just because the TDI is the world's most efficient engine, but also because no other competitor developed an LMP1 car with a gasoline engine to a similar level of detail and know-how.
"For this reason the diesel was trimmed again for the 2012 season, so that from our point of view the diesel is now at a real disadvantage on paper.
"We are, however, prepared to face this challenge and are convinced that the ACO and FIA will make the right decisions for the future. As far as the hybrid issue is concerned we can easily assess the pros and cons through our two-pronged approach, since the base of the R18 ultra and R18 e-tron quattro really is identical.
"The hybrid system alone makes the difference. The ACO and FIA will receive particularly meaningful data from us."
He added that Audi still believed there was more to come from the conventional diesel engine, and that the R18 ultra remained the best bet for Le Mans victory.
"Quite simply, the TDI engine invented by Audi is still the most efficient drive in the world," said Ullrich. "We've also proved this at Le Mans since 2006. It's not a coincidence that turbo diesel engines are unbeaten there for six years now, even though the diesel cars were repeatedly limited.
"We are convinced that the TDI has even more potential. This is why Audi not only supports the hybrid in motorsport and production, but in parallel also the further development of the conventional drive.
"The combination of TDI and hybrid is, however, without doubt particularly interesting and very promising. This is exactly what the new Audi R18 e-tron quattro stands for."