Pedro de la Rosa says HRT's planned 'filming day' shakedown could be critical
| | |
| --- | --- |
| By Andrew van Leeuwen | Sunday, March 4th 2012, 08:25 GMT |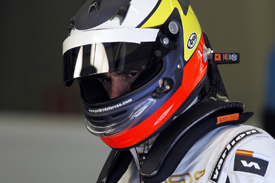 Monday's planned filming day for HRT will be crucial for its chances in the coming season, according to driver Pedro de la Rosa.
While HRT had hoped to test at Barcelona on Sunday, it became clear that it would be at least Monday before the new car arrives from Munich. With the official test over by that point, HRT will be restricted to a filming day, which means limited miles and exclusive use of older-spec Pirelli tyres.
But while the filming day may have its restrictions, de la Rosa believes that if it goes ahead, it will hugely aid preparations for the new season.
"If we manage to do a few laps on Monday, it's a victory for us," he said.
"I was not expecting to do any kilometres before Australia, so if we manage to accomplish that, it leaves us in a much better position than HRT has ever been in before a first championship race."
According to de la Rosa, even limited laps will allow the team and the drivers to get comfortable with the latest car, which he claims is completely new compared to last year's HRT.
"It is so important to just do a few laps to check the system on the car, make sure everything is working well, because it is a completely brand new car," he added.
"There is no carryover from last year. This is quite different, because if you look at the cars from other teams, they are all evolutions from last year.
"We have to be sensible and do some kilometres before Australia. That will give the team a chance to sort out any problems before Australia. And as a driver, it will help us get a proper race seat ready. I did it three days ago in Munich, but I need to do some laps to make sure it is OK.
"Ideally, we'd do days and days of pre-season testing, but I'm not here to complain about it. If we do a few laps on Monday, it's a victory."