Crew chief says Jimmie Johnson faces more scrutiny than NASCAR rivals
| | |
| --- | --- |
| By Diego Mejia | Friday, March 2nd 2012, 19:13 GMT |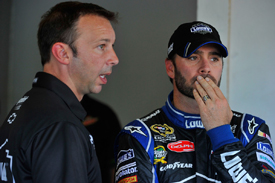 Jimmie Johnson's crew chief Chad Knaus claims his team is under more scrutiny than rivals after the #48 Hendrick entry was penalised following the Daytona 500.
On Wednesday NASCAR announced Knaus would be suspended for six races and fined US $100,000 after Johnson's Chevrolet failed the first technical inspection for the Sprint Cup opener.
Johnson was docked 25 points and the team's car chief got the same suspension as Knaus, as officials deemed the C-posts at the upper-rear bodywork of the car did not conform with the regulation. The squad will appeal.
"Obviously, I'm deeply saddened of course," Knaus told reporters at Phoenix on Friday. "We didn't expect this. It's not the way that we wanted to start off the season. It is good to have the support of everybody at Hendrick Motorsports.
"We will go after this [appeal], hopefully get it resolved and beaten and go back to business. Right now we are focused on getting through Phoenix and trying to win this championship this year."
Knaus stated that the car presented for opening inspection at Daytona was the same the team raced in the four restrictor-plate events last year at both Daytona and Talladega, going through technical inspection without issues multiple times.
He claims officials ruled the car was illegal based on visual evidence and said that he never got the chance to prove if the bodywork fitted NASCAR's templates.
"It was all visual," said Knaus. "The templates were never actually put on the car. It was a visual inspection at that point. We never even got the opportunity to actually present that under templates. It is unfortunate, there is a bit of subjectiveness to it and that is why we are going through the appeal."
He added: "NASCAR does a good job; they have a good set-up structure and a good set of standards that are in black and white, some areas that are not."
Knaus, who has been crucial in Johnson's five Cup titles, believes his car faces more technical scrutiny from officials due to its success rate in recent years.
Last season Johnson's car had to go through NASCAR's R&D centre after every race, following controversy during the Chase event at Talladega where an in-car camera caught Knaus telling Johnson to intentionally damage the rear of his car if he won the race.
However, no penalties were levied then and the car passed every technical inspection until the end of the season.
"Honestly, I love my job; every aspect of it," Knaus said. "This is an unfortunate part of the job. As a leader of a team like this, you have to be ready for it.
"As successful as we've been over the course of the years, our car obviously goes through a little more scrutiny because it is technical. It is inspected more. It goes to the R&D centre more because we win more races, more top-fives and things like that.
"So, you get somewhat numb to it."
Knaus is looking forward to bounce back from his team's worst start to a season and believes it has a proven record of being able to recover from adversity.
"I think it is going to make it exciting," said Knaus. "That is one thing that we typically try to do here with the #48 team. Somehow or another we seem to get through adversity pretty well. I'm not saying we like a challenge like this, but I'm pretty sure we will rise to the occasion."
Johnson is currently at the bottom of the points standings after crashing out of the Daytona 500 on lap two.