Q & A with Loic Duval
| | |
| --- | --- |
| By Gary Watkins | Friday, March 2nd 2012, 15:35 GMT |
Loic Duval was announced as an Audi driver for the Le Mans 24 Hours on the confirmation of its sportscar programme this week.
He talks to AUTOSPORT about the drive and his plans for the future.
Q. What does it mean to finally get a full factory drive at Le Mans?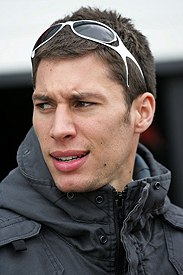 Loic Duval: This is the kind of opportunity that I have been looking for for some time. All drivers want to race for a factory team.
Q. How close did you come to signing with Peugeot prior to its withdrawal from sportscar racing?
LD: I did test and we did talk, but they weren't able to offer what I was looking for. At the same time I contacted Audi, because it was the manufacturer I really wanted to be with. Audi is Audi, you only have to look at their record to understand why. Some of my friends helped me. I know Andre [Lotterer] and Benoit [Treluyer] very well from Super GT. We are all good friends and they know what I can do.
Q. Is Super GT a good training ground for racing at Le Mans?
LD: The cars are fast - quicker than a DTM car, I think – and the racing is very close. Plus you have the slower GT300 cars, which makes getting past the traffic very important. You learn good skills in Super GT, which I think we have seen at Le Mans in over the past couple of years.
Q. How important do you think your victory with ORECA at Sebring last year was in Audi's decision to sign you?
LD: For sure, Sebring last year helped, but I think Audi looked at a lot of my other performances, such as Le Mans 2010 [when he recorded fastest lap].
Q. Does your move from Honda to Toyota for Super GT this year give us a hint to your future plans in Europe.
LD: I had to make a move for my career. I have to think of my future and keep my options open. Toyota could be a possibility for next year, but for the moment I am an Audi driver.
Q. Do you have a preference for 2013?
LD: I have answered that question already: Audi is Audi.