IndyCar boss Randy Bernard and reigning champion Dario Franchitti welcome Barrichello arrival
| | |
| --- | --- |
| | Thursday, March 1st 2012, 16:11 GMT |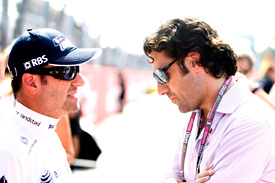 IndyCar Series boss Randy Bernard and reigning champion Dario Franchitti have welcomed Rubens Barrichello's move to the championship for this season.

KV Racing confirmed on Thursday that Barrichello will join his close friend Tony Kanaan and EJ Viso in a three-car line-up this year. And Bernard believes that the Brazilian's decision to continue his career in IndyCar is proof of the strength of the series.

"It's an exciting day for the IndyCar Series and a positive step to start 2012," said Bernard.

"We've said all along that one of the most important factors that will make the series successful is having the best drivers in the world, and there's not a person in the world who knows racing that wouldn't tell you that Rubens Barrichello is one of the greatest.

"I think it's been interesting to hear the response of the other drivers. It's been: 'This is great for us because it will show how good all of our drivers are'.

"That, to me, is important because the best in IndyCar are saying 'Bring him on'. There will be millions of fans that will want to see what he can do."

Four-time champion Franchitti expects the 11-time grand prix winner to be a force in the series.

"It's only a positive," he said of Barrichello's deal. "He ups the level of competition in the field yet again.

"Besides the guys we know already who are tough to beat, he'd add another major name to have to fight against."