Pastor Maldonado sure of 'much better' F1 season in 2012
| | |
| --- | --- |
| By Jonathan Noble | Wednesday, February 29th 2012, 20:05 GMT |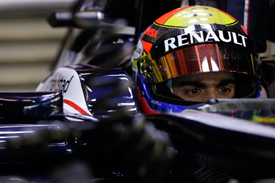 Pastor Maldonado is convinced Williams will enjoy a 'much better' season in 2012 as it bids to move on from its disappointing campaign last year.
With the outfit having undertaken a major reshuffle of its technical department, which included the departure of Sam Michael and the arrival of Mike Coughlan, Maldonado has said he is encouraged with the early progress of the new FW34.
"This season will be much better than last, not just for me but also for the team," said Maldonado, during the FOTA Fans' Forum event at Barcelona on Wednesday night.
"We have worked hard since last year to improve the project. We will grow and improve, and we look to be more competitive."
Maldonado says the whole Williams-Renault package is a step forward over last year's car - and he has been encouraged by what he has experienced in testing so far.
"Things have changed substantially within the team," he explained. "We now have a totally new car, almost a revolutionary concept, because last year we had some problems and we have solved them for this season.
"Actually, from a driving point of view, the car feels better, it is more reliable, and I am more comfortable within the car. There is no doubt that the Renault engine has helped us design the new car...I am happy to be with Renault this year and things will improve as the year goes on."
Maldonado also says that he feels he will be able to deliver more for Williams this year, now that he has a season's experience behind him.
"I feel much more comfortable now this year," he explained. "The first year is tough, because you don't have much time and you don't have much mileage before the start of the season.
"It is really hard. I think last year I did quite a good job, I learned a lot and I was lucky to have a colleague and team-mate such as Rubens [Barrichello] to learn all the positive things he had. This year I have more responsibility, which I understand and appreciate."