Pedro de la Rosa hopeful HRT can still run on Sunday
| | |
| --- | --- |
| By Jonathan Noble | Wednesday, February 29th 2012, 19:07 GMT |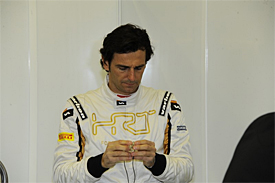 Pedro de la Rosa is hopeful that his HRT team can get its new car ready to run for the first time at Barcelona on Sunday.
The Spanish outfit only passed its final crash test last weekend, and it is now facing a race against time to complete the F112 before this week's final pre-season test ends.
De la Rosa said the plan was still focused on trying to get the car ready for Sunday - although he suggested there could be an opportunity for a straight-line test or filming day on Monday if it was necessary.
"The fact is that the goal this day is to try and get to Sunday," de la Rosa said during the latest FOTA Fans' Forum in Barcelona on Wednesday night. "The crash test was passed last Sunday, and since then the team has been building the car.
"We are in the car build phase, and if we come to Sunday fine. If not, then we have the possibility to do a new test on Monday."
De la Rosa said that he was positive HRT would make good progress over the campaign – even though it was facing such a rush to get its car ready for the first race.
"We intend to grow: grow orderly and improve – and if we are able to improve race by race that will be good," he said. "Let's not forget the F1 championship is 19/20 races a year, and we will have room for improvement.
"But we need to take it step by step and lay down foundations. What I have seen so far has really impressed me, and the team management has been doing a good job."
De la Rosa also revealed that HRT would consider adding KERS to its car later this season.
"The car is designed to use KERS, but the team has decided to start without KERS. During the season, once we have more time to test and be in Europe, then we can make the decision to use it or not. But the main thing is the car is designed around KERS."