Juan Pablo Montoya escapes fiery Daytona 500 crash unscathed
| | |
| --- | --- |
| By Diego Mejia | Tuesday, February 28th 2012, 10:14 GMT |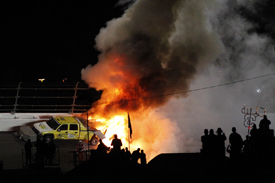 Juan Pablo Montoya escaped with a sore ankle from a fiery crash during Monday night's Daytona 500.
The Earnhardt Ganassi driver lost control of his Chevrolet under the seventh caution of the race, caused by an engine failure on David Stremme's Toyota. Montoya reported a suspected mechanical failure over the radio and had already pitted twice under the caution so his team could check his car.
At the end of the backstretch on lap 160, sparks came out from the rear of the #42 Chevrolet before it spun out of control and towards the wall, crashing against one of the jet-dryer trucks - which immediately burst into flames.
Montoya's car came to rest on the grass before he limped away from the wreckage, while all the fuel spilled from the jet dryer created a massive fire on the track at Turn 3.
"I'm OK," said the Colombian after being released from the infield care centre. "My foot hurt, but I'm OK. For as big of a hit that was; I'm pretty good to be honest.
"I didn't think about the truck, I thought 'I'm actually hitting the jet and it's not going to be fun.' Before I got there I was thinking 'this thing is going to be on fire pretty bad' and it was."
Montoya explained that his car had been behaving strangely, even at low speed, before the accident.
"I did the pitstop and when I came out of the pits I felt a vibration in second gear," he said. "I told them I think either a transmission broke or something.
"I went to third gear and when I accelerated the vibration came back. I came back into the pits, they looked at everything tight and OK... I went again and I was in fourth gear.
"I wasn't even going that fast and it was moving and travelling a lot. It just felt really strange, as I was talking on the radio the car just turned right."
Montoya's team-mate Jamie McMurray was later involved in a separate incident 13 laps from the scheduled end and said he suspected a similar problem to Montoya's might have caused him to lose control.
"I was the start of all that," he said. "I don't know if the transmission locked up or the rear end. Something broke in the car, and it was actually freakishly something similar to I think what happened to the #42 [Montoya].
"So, I'm not real sure what happened. It was like the back tyres locked up, and I started spinning."
Duane Barmes, the jet-dryer truck driver, was initially transported to Halifax Medical Center for further evaluation but was evaluated and released.