Danica Patrick philosophical after crash on Sprint Cup debut
| | |
| --- | --- |
| By Diego Mejia | Friday, February 24th 2012, 08:51 GMT |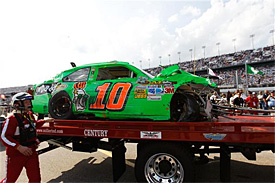 Danica Patrick was philosophical after crashing out of her first NASCAR Sprint Cup race on Thursday.
The former IndyCar star, who has made a full-time switch to NASCAR this year, crashed heavily against the SAFER barrier on the final lap of what was her first race at Cup level at Daytona.
Patrick was running at the back of the pack in the first qualifying race for Sunday's Daytona 500 when she got hit by Richard Petty's Aric Almirola, who had previous contact with Earnhardt Ganassi's Jamie McMurray.
Although she was able to escape unscathed from the wreckage of her car, the magnitude of the impact meant extensive damage which resulted in her being forced to switch to a back-up car for her Cup debut on Sunday.
Patrick is running a limited schedule this year for Tony Stewart's Cup outfit while taking on a full-time assault in the second-tier Nationwide Series for JR Motorsports.
The Stewart-Haas Racing driver, who was not completely happy with the handling of her car, said maybe using the back-up car will mean she will be stronger this weekend.
"I guess it's good that it happened today and not on a Saturday or Sunday," Patrick said about the incident. "That would have meant I crashed in the Nationwide race and that would have been bad. II just got hit. We were just running on the bottom lane and I'm betting it was a chain reaction from the outside.
"Guys get so close on their side drafting that they are touching you sometimes and I'm sure that at times, maybe in that situation it was a hitting side draft. It was probably just a chain reaction and I will go look at it and see if I can fix something or change something I am doing out there.
"Overall, I'm just very disappointed that the car got crashed with two corners to go. It's not how we wanted to roll into Sunday. We wanted to just be cool, calm and collected with no damage. I guess that maybe that back-up car is fast. We weren't super excited after qualifying. Maybe this is a blessing in big disguise."
Patrick said the 60-lap event taught her a few lessons about drafting and some of the nuances of racing in a big pack. Although she has enjoyed previous experiences at Daytona in the Nationwide and ARCA Series, the most recent ones have been dominated by tandem racing while now Cup events seem to be shifting towards racing in a big pack.
"I learned a lot," said Patrick. "It was a pretty calm race for the most part. Every now and again people get rattled and start moving around. It was pretty calm and I felt really comfortable.
"I was starting to learn and definitely picking up a lot about side drafting. How it affects you and how it is used so much especially in pack racing. Finding good lanes and just getting used to who moves well towards the front and who doesn't and trying to pick those right lanes."
Despite her unfortunate finish, Patrick remains confident of getting a solid outcome in Sunday's season opener, which she will start from the back of the field.
"I feel good, I really feel good, I feel comfortable," she said. "I feel confident. I feel like if things fall our way and I can take the experience from today into Sunday. I think it can be a good day. Obviously, things that are out of your control can make it a bad day. But, that is kind of the excitement about racing at Daytona and the excitement about big pack racing."
Besides Patrick, David Gilliland, Juan Pablo Montoya and Paul Menard will also start from the rear of the field due to switching to back up cars for Sunday's race after being involved in incidents during the first qualifying race.