Nico Muller tops first day of GP3 testing at Estoril for Trident
| | |
| --- | --- |
| | Tuesday, February 21st 2012, 22:02 GMT |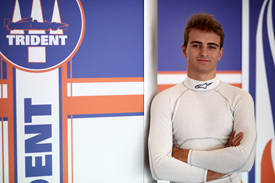 Nico Muller topped the timesheets for Trident Racing on the opening day of GP3 testing at Estoril on Tuesday.
The 19-year-old Swiss, who has yet to secure a race deal for the coming season, lapped the Portuguese circuit in 1m31.285s with just 15 minutes of the afternoon session remaining, knocking Mitch Evans off the top spot by just 0.015s.
Evans had set the fastest time during the morning session, despite the MW Arden driver completing only seven laps before the lunch break. He improved by just 0.071s during the warmer afternoon.
Antonio Felix da Costa was third quickest for Carlin to make it three GP3 racewinners in the top three positions. Lotus pair Aaro Vainio and Conor Daly completed the top five ahead of MW Arden's Matias Laine.
New Manor signing Tio Ellinas was seventh quickest with Tamas Pal Kiss (Atech CRS), David Fumanelli (MW Arden) and 15-year-old Matheo Tuscher (Jenzer) completing the top 10.
Manor driver Fabiano Machado brought out the red flags during the morning with a spin into the gravel, while Carlin's Will Buller did likewise during the afternoon. They were 14th and 17th overall.
The test continues on Wednesday.
Combined times:
Pos  Driver                  Team       Time       Gaps      Laps
 1.  Nico Muller             Trident    1m31.285s            52
 2.  Mitch Evans             MW Arden   1m31.300s  + 0.015s  23
 3.  Antonio Felix da Costa  Carlin     1m31.361s  + 0.076s  42
 4.  Aaro Vainio             Lotus      1m31.461s  + 0.176s  40
 5.  Conor Daly              Lotus      1m31.487s  + 0.202s  48
 6.  Matias Laine            MW Arden   1m31.498s  + 0.213s  31
 7.  Tio Ellinas             Manor      1m31.640s  + 0.355s  45
 8.  Tamas Pal Kiss          Atech CRS  1m31.713s  + 0.428s  21
 9.  David Fumanelli         MW Arden   1m31.745s  + 0.460s  42
10.  Matheo Tuscher          Jenzer     1m31.867s  + 0.582s  54
11.  Alexander Sims          Status     1m31.941s  + 0.656s  53
12.  Robert Visoiu           Jenzer     1m32.043s  + 0.758s  56
13.  Daniel Abt              Lotus      1m32.089s  + 0.804s  42
14.  Fabiano Machado         Manor      1m32.203s  + 0.918s  74
15.  Marlon Stockinger       Status     1m32.240s  + 0.955s  35
16.  Miki Weckstrom          Status     1m32.252s  + 0.967s  35
17.  Will Buller             Carlin     1m32.677s  + 1.392s  42
18.  Dmitry Suranovich       Manor      1m32.831s  + 1.546s  49
19.  Antonio Spavone         Trident    1m32.849s  + 1.564s  53
20.  Patric Niederhauser     Jenzer     1m32.977s  + 1.692s  58
21.  Alex Brundle            Carlin     1m32.993s  + 1.708s  40
22.  Vicky Piria             Trident    1m33.383s  + 2.098s  36
23.  Ethan Ringel            Atech CRS  1m33.535s  + 2.250s  50
24.  Robert Cregan           Tech 1     1m33.911s  + 2.626s  43
25.  Yuki Shiraishi          Tech 1     1m35.125s  + 3.840s  29