Michael Schumacher encouraged by early running with new Mercedes F1 car
| | |
| --- | --- |
| By Simon Strang | Tuesday, February 21st 2012, 09:05 GMT |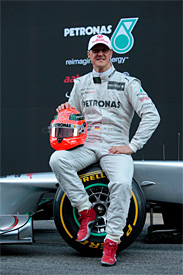 Michael Schumacher believes it is too soon to know whether the new Mercedes W03 can be a winner but says that it did give him the right messages when he shook it down for the first time at Silverstone last week.
Mercedes unveiled its 2012 challenger at Barcelona on Tuesday morning, having completed a private test with it at the circuit on Sunday.
And Schumacher says he can't wait to get a better picture of its true potential this week.
"Already last week, when we were driving the F1 W03 for the very first time, it instantly gave us good feedback and sensations," said Schumacher.
"Starting today, we will work intensively to make it a competitive runner.
"Obviously, we will only see over the next couple of weeks how big the step is that we have made, but I can say already that the guys and girls back in the factories at Brackley and Brixworth were brilliant in putting in so much effort.
"For my part, I am eager to fight again, looking forward to the new season, and I can't wait for it to begin."
Team-mate Nico Rosberg was also positive about his initial reaction to the new car: "We have had a good start to our 2012 testing programme, and it was a great feeling to drive the first laps in the new F1 W03.
"The car looks good, and is very nicely packaged under the bodywork - all the parts are in harmony, which reflects how well the different departments of our team are working together," he added.
"From the beginning of our running, we have been able to focus on understanding the car and making good progress with our test programme."