Michael Shank's team could miss start of IndyCar season
| | |
| --- | --- |
| | Saturday, February 18th 2012, 13:15 GMT |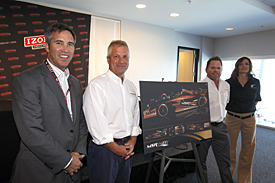 Michael Shank Racing may have to delay its IndyCar Series debut or only contest a limited 2012 schedule as it looks for further sponsorship.
The team has an engine deal with Lotus and hopes to run Paul Tracy, but has yet to begin testing, and admitted that a potential sponsorship option fell through last year.
"We've got the car in the shop and the people we need to go run the car, but at this point we are still working to have the full budget in place to go racing," said Shank. "I don't want to be in a position to just go out and make up the numbers. We want to show up and have a competitive presence.
"My main goal is to make this thing work, and if that means working with a technical partner to make it happen or just focusing on particular races then so be it.
"Obviously, there are folks out there testing right now, and that is the best-case scenario to be in. We've got a little bit bigger hill to climb at the moment, but we are not giving up by any stretch."
The IndyCar move marks a return to single-seater for Shank's team, which began in the Atlantic series but came to prominence in Grand-Am, recently winning this year's Daytona 24 Hours. MSR Indy has been formed as a partnership between Shank, NASCAR driver AJ Allmendinger and businessman Brian Bailey.