Danica Patrick says she can win Daytona 500 on her NASCAR Sprint Cup debut
| | |
| --- | --- |
| | Friday, February 17th 2012, 16:57 GMT |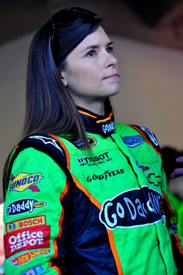 Danica Patrick believes she has a shot at winning the Daytona 500 on her debut in the NASCAR Sprint Cup.
NASCAR's premier race will be the former IndyCar racer's first Cup outing. After two seasons of parallel single-seater and stock car campaigns, she has made a full-time move to NASCAR for 2012 and will contest the Nationwide Series with JR Motorsports and a limited Cup schedule in a collaboration between the Stewart Haas and Tommy Baldwin Racing teams.
Asked if she felt she had a shot at winning Daytona, Patrick replied: "Do I think I can win the Daytona 500? Yeah."
She believes she will have machinery capable of winning if she can get through the race unscathed.
"I have a fast car so I think that's taken care of but I think it's going to take some good breaks and a patient race, staying out of trouble," said Patrick.
She added: "Let's face it, great drivers don't have great big speedway races because it depends on so many other factors like the tandem running or like staying in touch with the pack or like a pitstop or something like that or staying out of trouble.
"So I don't think there is a position that you can put on a race like this because it's wide open for various levels of experienced drivers to do well.
"Ultimately we all want to win but at the end of the day it's going to depend on probably looking back at the race and assessing my mistake level probably."
Patrick's team boss - and reigning Cup champion - Tony Stewart said Trevor Bayne's shock Daytona win a year ago had proved a rookie could triumph in the event.
"Did anybody think Trevor Bayne could win the race last year on this day?" said Stewart. "Anything can happen here, it is anybody's ballgame.
"She did a really good job in July last year in the Nationwide race when I ran with her. I was really impressed at how smooth she was and how good a job she did in the two car deal.
"There is no doubt in my mind she has the talent to do it."