Mercedes' new W03 Formula 1 car completes successful shakedown
| | |
| --- | --- |
| By Edd Straw | Thursday, February 16th 2012, 19:50 GMT |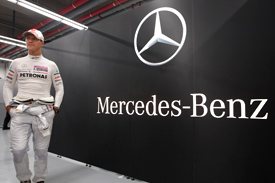 Mercedes enjoyed a successful first run of its 2012 Formula 1 car at Silverstone today ahead of its test debut at Barcelona next Tuesday.
The Mercedes F1 W03 completed the 100 kms of running permitted on a filming day using Pirelli demonstration tyres, with both Nico Rosberg and Michael Schumacher taking turns behind the wheel.
Vice president of motorsport Norbert Haug hopes will allow the team to "hit the ground running" next week.
"Judging the performance on a roll-out day is very difficult because you run on demo tyres and it was on the short circuit, but the car did everything it was supposed to do," Haug told AUTOSPORT.
"There's a limit of 100 kms so Nico did 50 kms in the morning and then we changed to Michael. There were no teething problems and now we are heading to Barcelona."
Details of the new car are sketchy, but the glimpses seen of the car so far reveal that, like all but one of the teams who have so far unveiled their new machines, it features the so-called 'platypus' nose that only McLaren has opted against.
"The nose is the most discussed issue," said Haug. "It's a stepped nose as some have seen. It's a very nice solution really and a very dynamic one."
Haug added that the extra 10 days of preparation time gained by not running the new car at last week's first test at Jerez have been put to good use.
In addition to mileage completed using the old car at Jerez on the 2012 Pirelli tyres, Haug believes that the simulation work done at the team's Brackley base leaves the team in good shape.
"We have done some very good simulations and calculations and worked a lot inside the company," said Haug. "We had the car on the rig ahead of time and simulated using the engine, gearbox and KERS for quite a while. So we are positive and the target has to be to hit the ground running [at Barcelona].
"We learned something with the old car concerning the new tyres and specifically ran with the blown diffuser because the comparative data with the old tyres was gathered under these conditions.
"We learned a lot and hopefully we can translate what we have learned into the new car."