Sebastian Vettel unconcerned by Red Bull reliability problems at Jerez
| | |
| --- | --- |
| By Jonathan Noble | Friday, February 10th 2012, 21:14 GMT |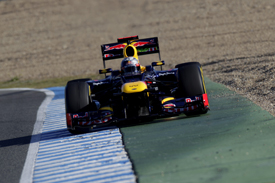 Sebastian Vettel sees no reasons to be concerned by Red Bull's reliability problems on the final day of the Jerez Formula 1 test.
The world champion lost the morning's running on Friday to an electrical problem, but he still remained happy with the progress that his outfit has made with its RB8.
"When I sat down in the new car for the first time, I had the most amazing feeling - it was like coming home after a really long trip," Vettel wrote in his official blog.
"My first impressions of our new RB8 are extremely positive, despite the fact that we now have to 'get to know each other'. With all the excitement and good vibes, we shouldn't forget the fact that we're currently at the beginning.
"It's all about trying out different stuff and getting a good feeling in the new car. The thing we probably focus the most on is definitely the speed. I think it's always possible to make a fast car more reliable, but I'm not sure if you can make a reliable car faster."
Vettel believes the positives of the test far outweighed the negatives – and said it was important that the team did not worry too much.
"Another important thing is to not get worried too soon," he added. "It's totally normal to have small problems; after all, that's what these testing days are for. For instance, we had a small technical problem today, but were able to fix it again. To be on the safe side, we changed the engine, but as I said, I'd rather have those problems now than later during a race."