Jarno Trulli describes maiden Caterham CT01 run as his 'best ever' first test
| | |
| --- | --- |
| By Jonathan Noble | Friday, February 10th 2012, 18:43 GMT |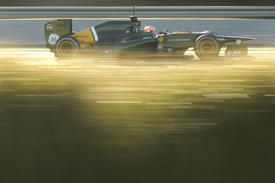 Jarno Trulli has labelled his experience of the new Caterham at Jerez on Friday as the best first day of testing he can remember in his career.
The veteran Italian, who took over the car that has been driven by Heikki Kovalainen and Giedo van der Garde so far this week, believes the CT01 is a big step forward over last year's challenger despite ending running at the bottom of the timesheets.
"It was a very positive day," he said when asked by AUTOSPORT for his feelings. "I think I cannot remember any better first day testing, honestly, or first week of testing.
"We ran into very, very few troubles despite the fact that the car is totally revolutionary, and with quite a few new interesting systems on it like KERS.
"I am happy despite the times, which are not representative at all, especially for us, as we know we have been extremely conservative on the fuel side and if we make some calculations we are probably in the ballpark."
One of the most important aspects of his day was the fact that he felt instantly happy with the power steering - having struggled so much with the system on last year's Team Lotus car.
"The power steering felt straightaway much better," Trulli explained. "I had a good feeling from the car and I can report everything that I couldn't feel last year at all, so it is good to have the feeling back again. I could point out a lot of stuff today.
"It has been almost a year that I didn't have this feeling, which is nice. There are still some details to sort out on this matter but it is very good. It shouldn't be a problem to be honest."