Teams confident FIA has firm handle on the policing of F1 exhaust designs
| | |
| --- | --- |
| By Jonathan Noble | Friday, February 10th 2012, 12:18 GMT |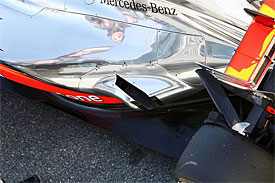 Williams and McLaren are confident that the FIA has a firm handle on the policing of exhaust designs in 2012, despite teams pushing the limit of the regulations to the maximum this year.
With teams no longer allowed to run with blown diffusers, there has been much effort over the winter in creating exhaust designs that can still create some aerodynamic benefit.
That has resulted in a host of different designs - with Ferrari and McLaren's approach to that area of the car creating the most interest so far.
Charlie Whiting, the head of the FIA's Technical Department, visited the opening Jerez test to take a look at the designs being tried out so far - and he is likely to be involved in further detailed correspondence with the teams in the build-up to the campaign.
While there remains the slim chance that a team may elect to trial an exhaust design that is challenged by the FIA, and could be protested by a rival, there is a growing consensus among technical figures that the situation is clear going forward.
Williams engineering chief Mark Gillan said: "Teams are obviously pushing things, and some teams are pushing things harder than others to the spirit of the regulations. But it is for Charlie and the FIA to police it.
"We are keeping a good eye on it and we will investigate any alternative solutions. But what works on one car will not automatically bolt onto another car.
"If you look down the pitlane, there is a wide range of options. We have investigated a number of those and we will continue to go back and look at them."
McLaren technical director Paddy Lowe, whose own car features an exhaust design housed in a sidepod bubble, thinks that teams and the FIA are pretty much in line about what is and is not allowed for 2012.
"Everybody knows that exhausts will always generate some limited aerodynamic performance – you cannot stop that altogether," he told AUTOSPORT in an exclusive interview.
"But what is so much better than 2011 is that the limits have been clearly defined and in a way which restricts the performance to a small fraction of what was possible before.
"I see this as being very similar to the situation with wings: in theory any wing which deflects in the slightest is illegal but we all know that real wings must bend, so to solve this the FIA set practical limits using specific stiffness tests.
"Actually, both examples are based on the interpretation of the same technical regulation: Article 3.15. What F1 always needs is clarity over what is OK and what is not OK, and I think the FIA have achieved that: Charlie has done a great job."