Tech 1 says Jules Bianchi will be a huge boost to its Formula Renault 3.5 campaign
| | |
| --- | --- |
| | Thursday, February 9th 2012, 10:25 GMT |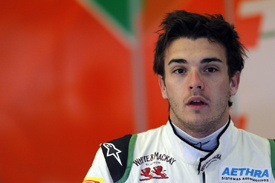 Tech 1 Racing team boss Simon Abadie believes Force India Formula 1 reserve driver Jules Bianchi's GP2 experience will be a huge asset to the squad.
It was announced this morning that Ferrari protege Bianchi would dovetail an FR3.5 programme with former champion team Tech 1 with his Force India duties. The Frenchman had been keen to keep racing this year as well as working with Force India, but another year in GP2 - in which he finished third for the past two seasons - would have been hard to schedule given the proximity of GP2 and F1 sessions on grand prix Fridays.
Abadie had already signed last year's stand-out FR3.5 rookie Kevin Korjus for the other Tech 1 car, and expects Bianchi to lift the whole team.
"He will be a key player in the battle to achieve our objectives - the teams' and drivers' titles," said Abadie.
"With Jules Bianchi and Kevin Korjus we have two drivers capable of fighting for victory. Jules's experience will help us develop the car. It's not the first time we've worked with a driver who's part of an F1 team.
"Jules will help us take advantage of all his know-how to fine-tune the new Formula Renault 3.5 single-seater. His arrival is very positive for Tech 1 Racing and also for the Formula Renault 3.5 Series in general. In exchange we want to help him cross the final hurdle and make it into Formula 1."
Bianchi added that he was delighted he had been able to secure a race seat to keep his hand in.
"This is a very important season for my career and, as a young driver, it is vital to have the opportunity to race in a competitive series such as this," he said.