D'Ambrosio rules out racing in other series in addition to his Lotus reserve role
| | |
| --- | --- |
| By Simon Strang | Tuesday, February 7th 2012, 08:19 GMT |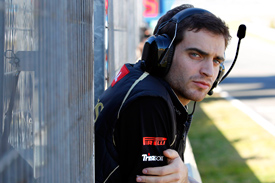 Jerome d'Ambrosio has ruled out racing in any other series in between his commitments as Lotus reserve driver role in 2012.
The Belgian, who raced for Virgin last year, said at the launch of the Lotus E20 that he was fully focussed on his position within the team and hoped that it would lead to another race seat in Formula 1 in the future.

"There are really two ways to look at it," said d'Ambrosio. "Obviously I would rather be out driving but you have got to see behind that and definitely it is a good opportunity for me and that's what I believe in, and the people with me and behind me believe.

"So I really am taking this as the next step. I have done one year in Formula 1 with a smaller team, obviously working with a bigger team is very different and I am just trying to make the most of this opportunity to be back in a race seat in 2013.

"But for the moment I am focussed on that and we will see."

He added: "At the moment my programme on the driving is not clearly defined yet, but I am still focussed 100% on Formula 1 and so I have no intentions to race anywhere else for now."

Asked whether he would be able to assist Lotus's two race drivers Kimi Raikkonen and Romain Grosjean, neither of whom has competed in F1 since 2009, d'Ambrosio replied: "Obviously I have raced with DRS, but that is not so complicated to get used to I think. Probably there is more work behind KERS really.

"And the tyres, I do have a feel for them, but obviously it highly depends on what car you are driving so I guess I will have a different to feeling to the one I had last year with my other team.

"If I can have an input because of my experience last year, or because of rain inters tyres and stuff, then I will definitely do it."