Gerard Lopez determined to keep Lotus name
| | |
| --- | --- |
| By Jonathan Noble | Monday, February 6th 2012, 20:16 GMT |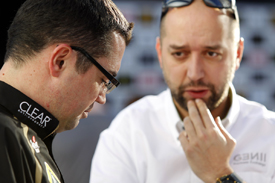 Gerard Lopez says his team is fully committed to retaining the Lotus name in Formula 1, even if circumstances play out that the sportscar manufacturer no longer sponsors his outfit.
The future of Lotus has been the subject of intense speculation over the last few weeks with owner DRB-Hicom Berhad suggesting it may sell on the business after buying it from parent company Proton.
Lopez's Genii company has expressed an interest in buying Lotus for himself, but there is also a chance that someone else could step in - and then decide not to continue with its motorsport programme.
When asked at Jerez if the Lotus team would keep its name whatever happens, Lopez said: "Yes we would. We've decided to separate both issues just in case.
"Essentially the name is something that we want and we can carry over regardless. Again, it's an historic brand. We were never going to call it Genii F1 team or something like that. Coming up with a new name was something that we could have done, but being able to associate yourself with an iconic brand, I think it's good business practice and I think more than that it just makes a lot of sense.
"At this stage, we are representing Lotus as a car company. There are obviously ties and so on, through the car company, but we don't pretend to be the company... to run the racing.
"Sure, we represent a car company today, hopefully that will continue to be the case. But if not, it's still a very strong brand to carry."
Lopez admitted in public for the first time that his company would be interested in buying Group Lotus if a deal was good enough for Genii.
"It's a great, great brand," he said. "People have said if there is deal to be had then we would be interested, which is wrong.
"If there is a way that we think that the company can be bought, and run successfully, then of course we would be interested. We are carrying the brand now on our cars, there is an emotional attachment to it, there is also a belief that a number of things we are doing are right in terms of cars. Some things might be better but, overall, I think we would show interest if we believe that there is something good that can be done."
Lopez said he expected the situation to become much clearer in the next few weeks, as DRB-Hicom decides what it wants to do.