Daniel Ricciardo keen to assert himself as team leader at Toro Rosso
| | |
| --- | --- |
| By Simon Strang | Monday, February 6th 2012, 19:32 GMT |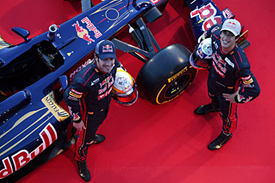 Daniel Ricciardo says he is ready to assume the role of team leader at Scuderia Toro Rosso if he can assert himself over new rookie team-mate Jean-Eric Vergne in 2012.
The Australian, speaking at the unveiling of the STR-7 at Jerez on Monday, indicated that the team's goal was to be a regular points finisher and that he wanted to be able to deliver that as soon as possible.
"We have gone a step forward, and this is definitely a pretty obvious and big step hopefully towards the big one," said Ricciardo. "Everyone I'm sure has faith in their own team but I've definitely got it with mine. Seeing the work they have done over the winter, I've been in Faenza a few times in January and I know they are very happy with the final product. So now we'll see what it does on track."
Ricciardo added that based on Toro Rosso's form in the second half of 2011, there was strong evidence that the Red Bull-owned outfit could build on that momentum early in the season.
"I think if it's anything to go by how the performance was at the end of last year then we can definitely be realistic about points," he said. "It's probably easier said than done, but I am going to have a pretty competitive car this year, at least more so than I had than last year.
"We'll see tomorrow once testing gets underway and we know what we have got underneath us.
"I know they have just tried to go better than what they had already last year, so if it's an improvement on that then points are realistic."
Asked whether he was ready to step up and lead the team as its most experienced driver - STR sacked both Sebastien Buemi and Jaime Algersuari at the end of last year - Ricciardo replied: "Yeah I would love to. That's the goal.
"The team hasn't set out a leader or anything but obviously if I can be the dominant driver I think that's everyone's little aim."