Sebastian Vettel believes 2011-style dominance unlikely in 2012 F1 season
| | |
| --- | --- |
| By Glenn Freeman | Monday, February 6th 2012, 13:39 GMT |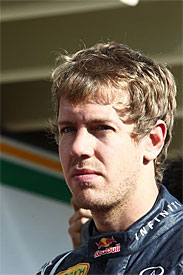 Sebastian Vettel believes the tightening up of the technical regulations will make it much harder for Red Bull to repeat its 2011 dominance.
The double world champion stormed to the title last year with the RB7, but he feels that any expectation that the team could enjoy a similar advantage this year would be misplaced.
"We'll always look back to 2011 and think how special it was," said Vettel, speaking during the launch of the new RB8 car.
"But to be honest, you don't start the season having expectations to have the same or similar season again.
"It would be wrong to go into this season and expect 2011 to happen again, as in getting into the lead early and having a very big gap to other competitors in the championship.
"The thing is, at the beginning of last year we didn't really expect whatever happened last year, so I think it's the same again."
Vettel explained that the changes to the technical rules, especially regarding exhaust blown diffusers, reduce any team's chances of gaining a big advantage over the rest of the field.
"Looking at the cars, there's not much room we have left to play with for designers and to find something extra," he added. "The last two years we have had two big things taken away; the double diffusers, plus, for this year, the system around the exhaust.
"So we are missing that and therefore I think it's difficult to really create a difference. Obviously we hope our car is better than all the others but it will be difficult. I think the cars will be fairly similar, and the gaps will be even closer than they have been.
"I think it will be very, very tight this year and anything else would be a surprise to be honest."