Ferrari expects to win from the start of 2012 F1 season with new car
| | |
| --- | --- |
| By Jonathan Noble and Glenn Freeman | Friday, February 3rd 2012, 09:26 GMT |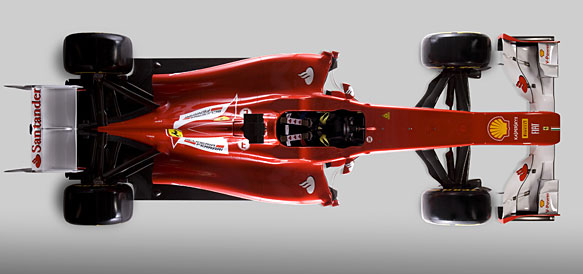 Ferrari expects its 2012 Formula 1 car to be winning races from the start of the new season, the team revealed at the launch of its F2012 racer on Friday.
Team boss Stefano Domenicali said that he believes the changes made behind the scenes at Maranello should yield instant results, following a tough 2011 season for Ferrari.
"I am sure our car will be winning right from the beginning," he said. "We have learned many lessons from the past, and taken some difficult decisions. But I am sure all our efforts will be represented with this car."
The new Ferrari has some extreme elements to its appearance, including a very aggressive step in the nose of the car due to rule changes for this year restricting the height of the nose. Domenicali made reference to the new car having "many novelties" but added that it was not a complete overhaul compared to last year's machine.
"From a technical point of view, we have many novelties in terms of mechanics and also the shape of the car," he said.
"[But] we wanted some continuity here, and hopefully we will reach the right performance. We have only 12 days to work on the car and achieve reliability, and also test the new tyres that have been given to us by Pirelli."
Domenicali also paid tribute to his driver line-up of Fernando Alonso and Felipe Massa, while Ferrari also revealed that its major sponsorship deal with Santander has extended until the end of 2017.
"I am sure our team will deliver a great effort," he said. For Fernando I don't have to add anything about his skill. In a difficult time last year he extended his relationship with us for many years, so this shows his responsibility.
"Felipe has been here 10 seasons in F1, always with a Ferrari [engine], always with us. A great, great talent and I am sure this year after a difficult season he will show his great value for himself and the whole team."