Dome returns to Le Mans 24 Hours with Pescarolo
| | |
| --- | --- |
| By Gary Watkins | Thursday, February 2nd 2012, 11:23 GMT |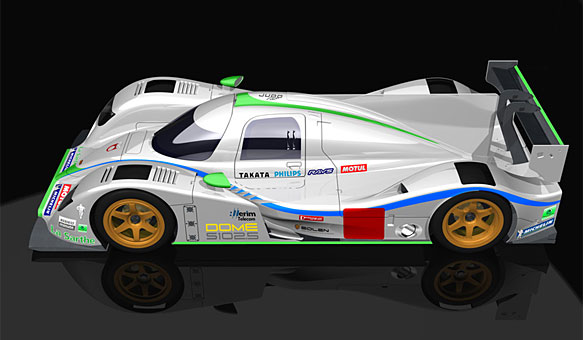 Dome is to return to the Le Mans 24 Hours in conjunction with the Pescarolo team.
The Japanese constructor is producing a heavily-updated version of its Judd-powered S102 coupe that raced at Le Mans in 2008 for an assault on this year's race and the Spa FIA World Endurance Championship race in May.
Pescarolo Team will run the LMP1 car, to be called the S102.5, alongside one of its eponymous prototypes at the 24 Hours in June.
Dome founder Minoru Hayashi said: "It is not our duty or obligation to compete in the Le Mans 24 Hours; there is no necessity for us to go to France. We don't have plenty of spare money either.
"All the above are absolutely correct but are not enough to stop us going crazy about her [Le Mans]. I have decided to fund the whole 2012 programme with Dome's own money."
Deals for the S101.2 to run with a Judd 3.4-litre V8, in place of its original V10, and Michelin tyres are already in place. Hiroshi Fushida is returning to Dome to manage the programme.
Former Peugeot driver Nicolas Minassian has agreed terms to race the car in its two appearances this year. Sebastien Bourdais is also close to a deal, while the team will also have a Japanese driver.
Minassian said: "This is very exciting for me; it is a new challenge. Dome always makes fast cars that are optimised for Le Mans and with Pescarolo running it, we have the perfect combination of experience and know-how."
Dome first raced at the 24 Hours in 1979. It built Toyota's first Le Mans contender for the 1985 season and then returned in 2000 with the S101 customer car entered by the Racing for Holland and Den Bla Avis teams run by former Le Mans winners Jan Lammers and John Nielsen respectively.