| | |
| --- | --- |
| Nicky Hayden sidelined by shoulder pain on day two of Sepang test | |
| | |
| --- | --- |
| | Wednesday, February 1st 2012, 13:23 GMT |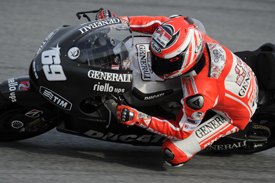 Nicky Hayden could only manage 16 laps of running on the second day of MotoGP winter testing at Sepang today before pain from his injured shoulder forced the Ducati rider to pull out.
The American broke his left scapula and fractured two ribs when he fell while training shortly after Christmas. Although he managed 33 laps on the opening day of testing yesterday, today proved harder still.
"I was okay when I first went out this morning, and on my second lap I managed to make a pretty decent step from yesterday," said Hayden. "After that I lost strength in the shoulder and wasn't really able to ride fast or consistently enough to test much.
"I'm okay under braking because I can lock my shoulder out, but when the bike shakes I don't have enough strength to hold on. I didn't want to crash and cause bigger problems, so I just decided to chill out. It's a bit of a bummer, but that's how it goes sometimes."
Despite being unable to complete much mileage, Hayden said he had seen enough to share team-mate Valentino Rossi's optimism about the 2012 Ducati.
"They've done a great job with the new bike, and you can see just from looking at it that it's really slick," he said. "I just wish I could ride it closer to the edge and really see what it does and how it reacts to changes."
Hayden doubts he will be able to do much running on the final day of the test tomorrow.
"Maybe I'll do a few more exits tomorrow, but that's about it," he said.