AJ Allmendinger hails best drive of his life to win the Daytona 24 Hours
| | |
| --- | --- |
| By Jamie O'Leary | Monday, January 30th 2012, 14:41 GMT |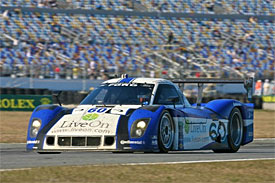 AJ Allmendinger believes that he produced the best drive of his life to anchor Michael Shank Racing's victory in the Daytona 24 Hours.
The NASCAR regular, who shared his Riley-Ford with Justin Wilson, Oswaldo Negri Jr and John Pew at the 50th anniversary running of the Florida enduro, was in contention for the win throughout the race.
Allmendinger drove the final three hours of the race under constant pressure from Ryan Dalziel's pole-sitting Starworks Riley-Ford as the gap between the pair fluctuated between three and 11 seconds due to a combination of traffic and caution periods.
Afterwards he also praised the ingenuity of team boss Shank - for whom he has driven at the past seven Daytona 24-Hour races - for changing the race strategy to ensure he drove the final stint.
"Mike [team boss Shank] changed the driver line-up, said I was going to be in the car last, and gave me seven, eight hours to rest while Ozz and Justin had to do all the work in the middle of the night into the morning.
"I knew that every lap I had to just drive my butt off, every single lap. And I honestly feel like - I never try to give myself a ton of credit, but I feel like that's some of the best three hours of driving I've ever done in my life, just every lap.
"Whether it was being aggressive, whether it was trying to dodge GT traffic, I felt like that might be some of the best three hours of driving I've ever had in my life."
His co-driver Oswaldo Negri Jr was seen visibly shaking while sat in the Shank pit area during the final few hours of the race. He said that the passing laps put a massive mental strain on his shoulders.
"Watching and waiting at the end were the hardest two and a half hours of my life," the Brazilian, who will drive the car with Pew in the remainder of the Grand-Am season, said.
"It was awesome when I was in the car, but once I got out, I couldn't take it - I don't know how my wife can do it. It was just fine running a triple stint with [Allan] McNish breathing down my neck.
"But then watch AJ do it was so hard - I don't have the heart to do that."