Monte Carlo Rally admits 2012's five-day duration was a mistake
| | |
| --- | --- |
| By David Evans | Friday, January 20th 2012, 10:50 GMT |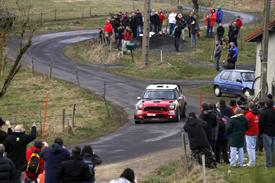 Next year's Monte Carlo Rally is expected to return to a shorter format after a disappointing level of entries for this week's World Rally Championship opener.
Commissioner general of the Automobile Club de Monaco Michel Ferry admitted the six-day format of the event, which is returning to the WRC for the first time since 2008, was too much. This year's rally started with 83 cars, compared with entry lists running into the hundreds in previous seasons.
"We are seeking a new format for Monte Carlo next year," said Ferry. "This is too long for the amateur and the Monte Carlo without the amateur is not the Monte Carlo. We try to find the solution because spending one day for the shakedown, one day for the power stage [is too much]."
Ferry added that he had already begun investigating potential changes for the 2013 season.
"Yesterday," he said, "we already had a meeting to find a better solution and better way for Monte Carlo, because five days is perhaps too long."
FIA president Jean Todt, a firm advocate of longer rallies, said the length of events needed further debate.
"The Monte Carlo Historic Rally has 320 entries," said Todt. "It starts in two weeks and still with the concentration part. Last year, some started from Marrakech, some from Stockholm and if you speak with some people they say it was outstanding to have this concentration [run to the actual start of the event] which was lasting two, three or four days.
"And now if we have the [WRC] rally which is lasting more than three days then some people complain. We have to figure out which is the best option. We will move in the best direction, but we will do this by allowing each rally to have its own soul."