Jari-Matti Latvala credits Ford team-mate Petter Solberg for crucial Monte Carlo tyre choice
| | |
| --- | --- |
| By David Evans | Wednesday, January 18th 2012, 13:48 GMT |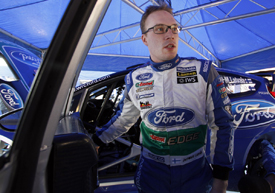 Monte Carlo Rally leader Jari-Matti Latvala thanked his Ford team-mate Petter Solberg for his input into the Finn's perfect tyre choice for second stage of the opening day.
Latvala took 52.7 seconds out of SS1 leader Sebastien Loeb on the Burzet-St Martial test after deciding to run the softest tyres mixed with studded covers. Instead of a conventional front-rear split, Latvala went with slicks on the right-front and left-rear and studs on the other wheels.
"We had not tested like this," said Latala. "I didn't know what would happen, I was a little bit worried, but Petter had done something like this in Germany [in 2011 with slicks and wets] and he said it would be okay. It was a good decision."
Solberg was ready to mirror the move, but received a call from Ford team principal Malcolm Wilson just before he went into SS2, telling him to run slicks all around. The area of concern was a four-mile stretch of ice around five miles into the stage.
"We had soft slicks all the way around," said Solberg, "and this worked. We had made 18 seconds on Loeb through the first seven kilometres, but when we got to the ice, we had to back off - it was very interesting!"
Loeb and his Citroen team-mate Mikko Hirvonen both ran a similar mix of studs and slicks to Ford, but the French team was running slightly harder rubber which did not work as well with the spiked covers.
Wilson said: "It's been a good morning for us and I'm pleased with the way the guys have driven and coped with some pretty tough conditions. After we'd lost out a little bit - maybe a bit more than we thought we would on the opening stage - we decided to spread the bets a little bit in the second one, which is why I called Petter and asked him to take the studs off and put the slicks back on. That way we had our bases covered."
Ford is believed to have taken two studded tyres as spares for the afternoon, as it did this morning, while Citroen is reckoned to have gone with four slicks on the car and a further two in the boot.
Loeb is 30.5s behind Latvala, with Solberg third, 10.3s behind Loeb.