Q & A: Ford explains tyre gamble that gave Jari-Matti Latvala Monte Carlo lead
| | |
| --- | --- |
| By David Evans | Wednesday, January 18th 2012, 13:29 GMT |
Jari-Matti Latvala used a highly unusual tyre strategy to burst into a 30-second lead on the opening morning of the Monte Carlo Rally - running two studded tyres and two super soft slicks, but mounted diagonally from each other rather than the more customary front/rear or left/right arrangement.
With Latvala leading Sebastien Loeb and his Ford team-mate Petter Solberg using an all-slick strategy to hold third, Ford tyre engineer George Black explains how the team came up with its plan.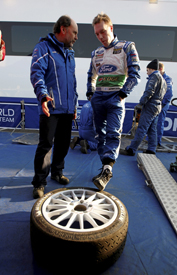 Q. Jari-Matti ran studded tyres on the left-front and right-rear of his Fiesta this morning, how did that come about?
George Black: This was something we had spoken about, but we had never had the opportunity to test the set-up like this. We had the feeling that two studded tyres at the front would give you braking and turning, but you'd have absolutely no control over the rear - the oversteer would take away the advantage of having the studs on the front. Okay, you would have traction on the uphill, but that would be about it.
That was why we made the decision, we put them on opposite corners and hoped it would do the job.
Q. You also ran the softest compound of slick tyre on the first stage, did that help?
GB: Yes. We did have a bit of a conflict of information from the stages while we tried to make the decision. One of the gravel crews reported more damp than the other in the first stage, but in the end we went for the super soft tyre.
We lost a little bit on the first one because it was quite dry and the tyre suffered instability, but on the second stage the softer compound was more in balance with the studded tyre - that's why we gained on the second stage. The movement coming from the super soft tyre was more in line with the way the studded tyre was moving.
Q. Is that what cost Citroen time?
GB: I would say so. Citroen ran the slightly harder tyre than we did and when you combined that with the soft stud, it was a little bit out of balance.
Q. Citroen ran these diagonal tyre choices in Germany last year, mixing wet and dry tyres in that way. Did that influence your decision to do it here?
GB: It was definitely in the back of our mind. We knew that they had run this kind of set-up before. Petter had done this before, he did it in Germany last year and he was the one who was pushing for this - he had experience of it and he was sure it could work well.