Carl Edwards bins Nationwide to focus solely on NASCAR Sprint Cup in 2012
| | |
| --- | --- |
| | Monday, January 16th 2012, 16:20 GMT |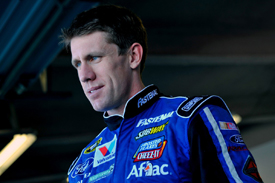 Carl Edwards hopes that his decision not to contest the second-tier NASCAR Nationwide Series will help his Sprint Cup campaign in 2012.
Last year's Cup runner-up has traditionally raced in Nationwide as well, winning the title in the latter division in 2007, when it was still called the Busch Series, and taking eight Nationwide race victories in '11.
Edwards committed to a Nationwide campaign last year before NASCAR's decision that drivers could only score points in one series per season, and feels that as it is now impossible to take a title double, he will be better off focusing solely on Cup.
"I'm hoping this lets me focus more on the Cup car - lets me be a better Cup racer by maybe having more time during the race weekend to maybe hone the set-ups in," Edwards said.
"I don't know how it will actually affect our performance but I do know my calendar is a lot more open and I'm able to breathe a little more. And I know my family and everyone will really appreciate that."
But Edwards left the door open to a Nationwide return, as he still sees advantages in contesting additional races during NASCAR weekends.
"Truly I learned so many things in that Nationwide car that it's a real toss up whether or not it'll help the [Cup] performance on Sunday," Edwards said. "I've made some big mistakes on Saturday that helped me not to make them on Sunday.
"We could get 10 races in and I could say 'Hey, I'm better off racing on Saturdays.' Then, it would be on me to go look for some way to put something together so that we could go race [in Nationwide]."