Peugeot's Anthony Davidson sure FIA can solve diesel/petrol equivalence rows in World Endurance Championship
| | |
| --- | --- |
| By Mark Glendenning | Sunday, January 15th 2012, 14:25 GMT |
Peugeot sportscar driver Anthony Davidson is optimistic that the involvement of the FIA will help to achieve parity between petrol and diesel-powered cars in the new World Endurance Championship.
The gap in performance levels between diesels and petrol cars has been one of the main points of debate in top-level sportscar racing since the Audi R10 TDI arrived in 2006, but Davidson is confident that the category's return to world championship status this year will help to keep things on an even keel.
"We've seen in touring cars how hard it is to get things level, and different things come into play, like altitude," said Davidson at AUTOSPORT International.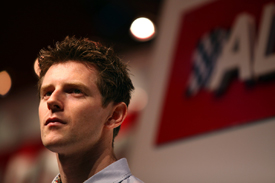 "This year we're going to Brazil, 800 metres above sea level, and in a turbodiesel that's going to be a huge advantage against a normally-aspirated engine. Trying to get that level is quite difficult. But now we have the involvement of the FIA, I've got full confidence that it will be comparable."
The Briton believes that the arrival of Toyota will also help to balance the two engine types out if it opts for a petrol-powered car.
"[Toyota] is a manufacturer with a big budget that is able to produce a good petrol engine - assuming they are going to have a petrol engine - against the diesel," he said. "It's great technology, and that's what modern motorsport should be about."