Sebastian Vettel is constantly getting better, Red Bull boss Christian Horner warns rivals
| | |
| --- | --- |
| By Simon Strang | Saturday, January 14th 2012, 13:50 GMT |
Reigning Formula 1 world champion Sebastian Vettel will be even stronger in 2012 after becoming the youngest driver to win back-to-back titles over the past two seasons, according to his Red Bull Racing team principal Christian Horner.
Speaking on the main stage at AUTOSPORT International, Horner said that he has seen the 24-year-old constantly evolve as he has learned and gathered experience as a world champion and expects that growth to continue this season.
"He is a young man, but one that has achieved so much and he has got a very wise head on young shoulders," said Horner. "Technically he is very strong, physically he is very strong and obviously he has got an enormous amount of natural talent and intelligence."
Horner added: "He is now the one the other drivers are shooting at. It's a different type of pressure, but he handles it tremendously well and I think in many respects getting that first championship on his CV by winning it so dramatically at the last race, released him.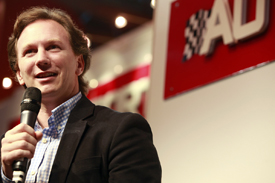 "He just made another step in 2011 and drove with such composure and confidence.
"I think the exciting thing about Sebastian is that at only 24 years of age, he is still evolving, he is still getting better and I think the best is yet to come from him."
Asked whether it was possible for Vettel to match the run of seven-time world champion Michael Schumacher, Horner replied: "It's difficult to look like that because it all depends on the circumstances you are in and the equipment that you have at your disposal.
"But Sebastian can have a very long career ahead of him, he is genuinely passionate about F1, he loves what he is doing and he can be around for a long time to come."