David Coulthard says Sebastian Vettel is already one of Formula 1's legends
| | |
| --- | --- |
| By Jamie O'Leary | Saturday, January 14th 2012, 11:37 GMT |
David Coulthard believes that Sebastian Vettel has already become 'a great' of Formula 1, in the wake of his back-to-back world titles.
Vettel won 11 grands prix in 2011 and finished the season more than 100 points clear of McLaren driver Jenson Button in second place.
And Coulthard, the man that Vettel replaced at the Red Bull team for the 2009 season, believes the German's achievements already put him in the top bracket of drivers to have competed in the sport during its 62-year history.
"Look at Mark Webber," Coulthard said on the main stage at AUTOSPORT International on Saturday. "He's a driver I rate very highly, but he was made to look average by Sebastian last year - which we all know he isn't.
"What it shows is the emergence of a real great within the sport by winning those back-to-back world championships.
"In the end it's actually quite amazing that Sebastian was so dominant, because his victories were not like in the Michael Schumacher era, when he would sometimes be winning by half a lap or something.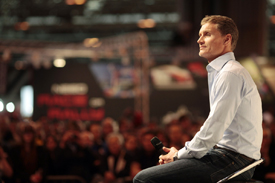 "Things have closed up so much between the teams since then; we saw [Fernando] Alonso never giving up, the varying form of Lewis [Hamilton], who was amazing when he was on it, and Jenson, who was fantastic. And when Sebastian was winning, it wasn't by a lot."
Coulthard also praised Button's performances during the 2011 season, during which he became the first of Hamilton's team-mates to finish ahead of the 2008 world champion during a campaign.
"I think he's a better driver now than when he won his world title with Brawn," the 13-time grand prix winner added. "When he made his big points gap, and then the rivals started to catch up, he made mistakes. It was like a tennis player missing an easy smash.
"Now you look at him and the way he's performed, growing in confidence all the time. It's got to the stage now where when the conditions are at their most difficult, he's the guy they look to. It's pretty impressive being in that position."