Allan McNish says sportscar racing is entering a new halcyon period
| | |
| --- | --- |
| By Sam Tremayne | Saturday, January 14th 2012, 11:18 GMT |
Two-time Le Mans 24 Hours winner Allan McNish says sportscar racing is entering a glorious new era amid booming manufacturer interest and the advent of the World Endurance Championship.
Alongside Audi and Peugeot in LMP1, Toyota will contest selected rounds of the WEC this year - including Le Mans - while Honda is involved through the new HPD LMP1. McLaren will also enter the fray in the GT class, and Porsche is working towards a top-class return as well.
McNish says the arrival of new manufacturers, and the subsequent boost to grid numbers, hints at a new glory period for sportscars - which is already evidenced by how close and competitive the races have proved.
"Back in 2009 and the first race at Sebring there were 33 cars on the grid," McNish said on the AUTOSPORT International stage. "At the first round of this year's World Endurance Championship there will be 64 cars - nearly double.
"Toyota [returning] is superb news. I drove for them the last time they were in sportscars and then in Formula 1, and they'll be very keen to bring this title – and Le Mans – back to Japan. Audi and Peugeot want it too of course, and then you have Honda coming in with the HPD.
"It's setting up to be a new glory years for sportcars, with four manufacturers in LMP1 and droves of cars in GT, including McLaren. The thing that brings it all together is the World Endurance Championship. As a driver you always want to fight for the biggest prize, and now you have that title.
"If you look at it in 2008 we beat Peugeot by six seconds at Petit [Le Mans], by 13s at Sebring in 2009, and again by 13s at Le Mans. That's less than 0.1s per lap over the distance.
"That is how competitive it is. If you wait four times [behind traffic] you've lost Le Mans. The manufacturers coming in have really extended the boundaries of what we call the norm, and I'm really looking forward to further big steps at the front in the next few years."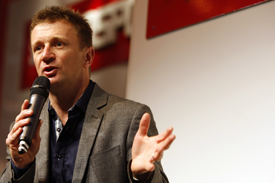 McNish conceded that the bigger grids would also bring new problems with traffic, making some accidents inevitable and meaning blame cannot be apportioned.
"Nearly double the amount of traffic means big speed differentials, especially in the corners. Sometimes there is no clear cut situation – ultimately two into one, or five into one as we saw at Petit, doesn't go," said the Scot, who had a huge crash in traffic early in last year's Le Mans race.
"At Le Mans I didn't see [Anthony] Beltoise and he didn't see me, and the first thing I knew was that I was going backwards across the gravel. I had no clue, no idea at all, what I hit. I couldn't blame him: he thought he was doing everything right, and I thought I was, and it conspired two into one didn't go.
"To come out of a 160mph cartwheel with a graze was a spectacular feat for the amount of safety they've been built into the cars, though. YouTube was actually one of first things that shocked me – I went on [the following morning] and there were lists upon lists of videos and millions who had viewed them. It was much more frightening watching it than being in it.
"In reality the maximum speed difference between [Audi and Peugeot] was about one tenth of a second, so you have to attack – and that is the way it should be. It's enthralling because if you slip up once it's gone – but you also have to be on the attack all the time or it's gone as well. That's the enjoyment of racing – it's why I started, and sportscars has it in droves at the moment."