Strakka boss says time is right for LMP1 move
| | |
| --- | --- |
| By Simon Strang | Thursday, January 12th 2012, 14:44 GMT |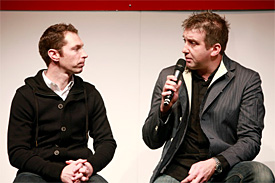 Strakka team manager Piers Phillips says the time was right for the sportscar squad to step up to LMP1 with HPD in 2012.
The team recently announced that it would enter a new Honda Performance Development ARX-03a, to be driven by Jonny Kane, Danny Watts and Nick Leventis in the eight-round World Endurance Championship.
Speaking at AUTOSPORT International, Phillips said progress on the project is on schedule.
"We'll have the car finished and built by the end of the month with a view to testing early in February and then shipping off to Sebring," said Phillips.
"We were ready to step up and measure ourselves against the big boys. We have a great driver line-up and great car and with the new World Endurance Championship and obviously incorporating some of the classic events it was the perfect place for us to be.
"Any successful team or result is based on the partnerships of those concerned. Wirth Research do a fantastic job on the car and they are very heavily involved with the support in terms of engineering, aero development, team strategy. We obviously work extremely closely with HPD developing their product.
"The decisions about the car and the engineering of the car come down to the team and we've got some great personnel in the team and some great individuals and we really want for nothing in terms of how we perform."
Former McLaren AUTOSPORT BRDC Award winner Kane added that he was genuinely enthused about stepping back to the top level of sportscar racing and the opportunity to race on some of his favourite tracks.
"I'm really looking forward to the year," he said. "Some new circuits that I haven't been to before; but hopefully we're going back to Interlagos which I have raced at before and really liked that circuit. Then there are the usuals like Silverstone and Spa and Le Mans.
"We are a private team but with a lot of experienced people. We have great support and we just try and operate at the best level we can and sometimes that brings better results than other people expect but nothing more than we hope for itself." Kane said that the might of the factory diesel machinery from Audi and Peugeot would be tough to beat but added that he could but focus on the development of the HPD.
"One of their big advantages is their reaction time to things," Kane said of the turbo-diesels. "We saw this year that Audi had two massive accidents at Le Mans but within in three weeks they were back to full strength at the next Le Mans Series race. A team like ours wouldn't be able to do that. We just wouldn't have the cars or whatever was required to be there.
"But we will look after ourselves. We'll be in charge of the things we can be in charge of and hopefully we can spring a surprise."