Stage One Technology, WRC's expert timing firm, will not be in Monte Carlo
| | |
| --- | --- |
| By David Evans | Wednesday, January 11th 2012, 19:26 GMT |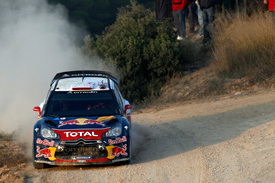 The World Rally Championship's expert timing firm Stage One Technology will not be in Monte Carlo for next week's season-opener after it was unable to find agreement with the administrators of North One Sports.
After working for two days to try and ensure continuity in the timing and tracking systems used in the WRC, Stage One Technology managing director Simon de Banke has this evening confirmed to AUTOSPORT that he and his firm will not be going to the Monte Carlo Rally.
De Banke had made an unprecedented offer to NOS - which owes him close to £1million - of turning all future profits from his firm over to charity for the opportunity to use NOS equipment on next week's event.
"The offers we made yesterday were rejected," said de Banke. "As a company we are too small to stand up to the might of the potential litigation, which appeared to be the direction in which this thing was going. It just became untenable, so we have agreed to return the equipment to North One Sport, even though we do still believe we are the party with the most right to it, but that's life.
"The upshot is that we will not be in Monte Carlo. We believe there is another party which will be doing that."
AUTOSPORT has contacted the Automobile Club de Monaco to ask who will supply the timing and tracking systems. On last year's Intercontinental Rally Challenge round, the system was provided by MovadoSolutions – which provided instructions of how to tie-wrap the unit to the roll cage before plugging it into a cigarette lighter.
The future for Stage One Technology is now unclear, with de Banke adding: "We will take the next few days to take stock and look at where we are and see if there is anything we can do to assist the championship.
"Because we couldn't offer the certainty to the FIA, we couldn't do a deal with them for Monte Carlo. I don't want to say this is the end, I'm not a quitter. I will do anything to protect the team, but this is a very, very serious situation indeed and we need to look at options to go forward.
"This will affect somewhere between 10 and 20 members of staff, possibly more than that because there are other suppliers who will be affected. We are extremely disappointed. We were trying to be reasonable, but we understood there was a chance of this.
"From our whole team we would like to apologise to the Rallye Monte Carlo organisers, and the FIA for not being able to assist them, and we wish them a successful event."