Williams F1 announces deal with Michael Johnson Performance Inc
| | |
| --- | --- |
| | Wednesday, January 11th 2012, 17:04 GMT |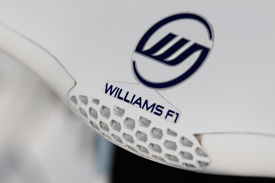 Williams F1 has announced a deal with Olympic gold medallist and former 200m world record holder Michael Johnson.
Johnson's Performance Inc company will provide an intensive training programme for the Formula 1 team's pit crew personnel, and also evaluate its current training programme. In return, the MJP logo will be displayed on the sleeves of driver and team overalls and on team kit.
"I had the privilege of first meeting Michael at the Belgian Grand Prix in the late 1990s," Williams team principal Sir Frank Williams said.
"I have always admired the dedication required to be an Olympic Champion. The attention to detail and the commitment required is what sets these extraordinary individuals apart from the rest of us.
"When Michael and I met again recently he explained how he had established a company that specialised in improving athletic performance. I was extremely keen to learn how he could help our team as there seemed to be a lot of areas of common interest.
"We all know how crucial the brief time the car spends in the pits can be, and so it will be exciting to see how Michael and his team can help give us the edge in this respect."
Johnson, whose glittering career in athletics included numerous world records and an historic 200m/400m Olympic double in 1996, said he was confident his company's expertise could benefit the F1 team.
"I have been a huge Formula One fan since I first attended the Grand Prix at Spa in 1990 where I had the great privilege of meeting Sir Frank Williams," he explained.
"Williams is known around the world as one of the most successful teams in the history of Formula 1 and has achieved great success over the years and we look forward to helping them continue that winning tradition.
"I am confident that the experience and biomechanics expertise of the MJP staff can benefit the Williams F1 Team pit crew in their goal to cut hundredths and even tenths of a second from their pit stop times."