| | |
| --- | --- |
| Ducati Corse head Filippo Preziosi says a flexible approach will be key to Ducati's 2012 hopes | |
| | |
| --- | --- |
| By Jonathan Noble and Sam Tremayne | Wednesday, January 11th 2012, 11:47 GMT |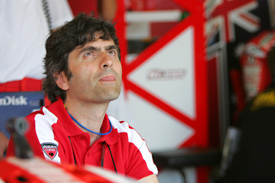 Ducati Corse's general manager Filippo Preziosi says a far more flexible approach - and a far more flexible bike - will be fundamental to the team's ambitions for the 2012 season.
Preziosi believes Ducati paid the price for not leaving itself enough room to adapt or alter the GP11 last year - limiting the scope and magnitude of potential changes and improvements during the year.
Taking that lesson on board, Preziosi says Ducati will arrive at the first test of 2012 with a more open approach, and a more adaptable bike, in order to ensure that the team can implement a far greater range of set-up changes as they bid to become a racewinning team again.
"The bike [which] is going to be brought to Sepang is going to be a reference bike," Preziosi explained during a press conference at the annual Wrooom event. "The main goal is to have a range of adjustments based on what we have defined as the ideal target.
"What happened during last season was that we did some adjustments and went in the direction of what was the limit of possibility. We used items to the limit of adjustments, and this did not allow us to go where we could be competitive.
"At Sepang, we will have a bike that will allow us to have many different set-ups, [starting] with a range of adjustments that will be at the centre of possibilities.
"[This] bike will be extremely adjustable in many of the parameters, one of which we hope will particularly help performance – we have to find the one that is right."
Preziosi admitted the change of design philosophy – which the team implemented at the 2011 end of season test at Valencia – was an ambitious new step, but backed Ducati to cope with the added pressures and work load it required.
"The fact that we can define our test objectives after Valencia and get to Sepang is something only a small, lean and flexible company can do," he explained.
"We have great respect for our adversary. For us this is a new technology and we are aware of the challenge that is ahead of us. We know that there is a possibility of not immediately having a good result, and the fact this could create a down.
"To compete successfully though it is not enough to do well yourself; you have to do better than others, and when the others are Honda and Yamaha it is extremely difficult.
"Ducati in its history has had beautiful years but also difficult years and we are used to suffering, but it is fundamental to do well in the future though – results are the best glue in sports."