Driot: Grosjean proved DAMS only needed a quality driver to win titles
| | |
| --- | --- |
| By Glenn Freeman | Sunday, January 1st 2012, 11:41 GMT |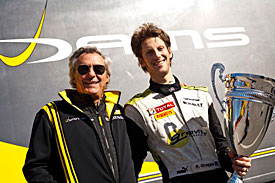 DAMS team boss Jean Paul Driot believes that it took his team so long to win the GP2 championship because he has never wanted to take a risk on an under-funded driver.
New Lotus-Renault Formula 1 signing Romain Grosjean dominated the 2011 GP2 season for DAMS, giving the French squad its first main series title since the category began in 2005.
Driot feels that his team has always been capable of fighting for the championship, but it has always taken drivers with a budget to avoid any risk of financial troubles.
"At this level it is very difficult to win the championship," Driot told AUTOSPORT. "You have to be exceptional. But as usual, there are budget issues."
DAMS was able to take Grosjean for 2011 because the team found a sponsor to fund his seat, meaning that for the first time in GP2 is was able to take a driver based purely on ability.
"You need a driver in his second year," Driot added. "Plenty of teams, even in Formula 1, would be willing to take drivers with more talent, but they have to go for drivers who are bringing money. This has happened for years.
"Unfortunately most of the time we cannot get the driver we would like. But if you have a good sponsor and you can choose the good drivers, then I think you can remain at the top. This is what I am trying to do.
"If you have an experienced team, and you have won before then you know what winning is like. The problem is to maintain the same quality every season."