Robert Kubica's absence a bigger blow to Renault in 2011 than exhaust issue, says Eric Boullier
| | |
| --- | --- |
| By Jonathan Noble and Matt Beer | Wednesday, December 28th 2011, 12:14 GMT |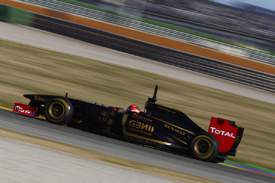 Renault team boss Eric Boullier believes the absence of Robert Kubica was a bigger factor in the squad's poor 2011 season than the unsuccessful forward-facing exhaust layout.
After a promising start to the year, with two podiums in the opening two grands prix, Renault's season tailed off dramatically and by the end of 2011 it was often struggling to even get into the points, leaving its technical chiefs to admit that the radical exhaust arrangement had hampered the car.
But Boullier says the loss of erstwhile lead driver Kubica's services after the Pole was seriously injured in a pre-season rally crash was the main cause of Renault's slump.
Asked by AUTOSPORT what he felt was the primary reason why 2011 proved so tough for Renault, Boullier replied: "Robert, by far. By far because there was a direct sporting loss, which obviously was related to the speed, and was also a morale blow for the team and for everybody.
"But you had an indirect loss too - and this is one of the bigger values of Robert. It's mental strength, and also the commitment from the team to make it good and better. And this... we don't know how much it cost us, because maybe part of the development of the forward exhausts could have been done differently with the comments of Robert."
Kubica will definitely miss the start of the 2012 season as well, and looks increasingly unlikely to drive for Renault - which will soon become Lotus - when he returns. The team has now signed Kimi Raikkonen and Romain Grosjean for next year.
Despite 2011 proving so frustrating for Renault, Boullier believes the experience will have made the team stronger for the future.
"This year has been very tough for our people, for me and for everybody in the company because it was very frustrating," he said. "But maybe we will go deeper into understanding how we can be better.
"If the car had developed very well with Robert, then maybe we could have been chasing for the top three in the championship and we'd think, 'Wow, we are in good shape.' But, in fact, we would have missed a lot of things.
"For me with this experience, it maybe looks like a disaster but it was great to be learning."
Click here to read a full interview with Eric Boullier on Renault's 2011 tribulations in AUTOSPORT Plus.