Toro Rosso's Daniel Ricciardo admits he will have to raise his aggressive level for first full Formula 1 season
| | |
| --- | --- |
| | Wednesday, December 28th 2011, 11:08 GMT |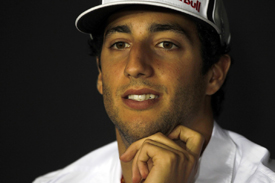 Daniel Ricciardo believes he will have to take a more aggressive approach in his first full Formula 1 season with Toro Rosso in 2012.
After a promising partial campaign with HRT this year, the Australian has been given an STR seat alongside fellow Red Bull protege Jean-Eric Vergne, with Sebastien Buemi and Jaime Alguersuari ousted to make way for the pair.
Ricciardo said he was confident he was quick enough for F1, but knew he needed to be more assertive in his racing now.
"I know I've got it but it's probably not consistent enough and at Formula 1 now it has to be as good as it can be," he told the Australian Associated Press.
"I think my actual starts are okay, the initial reaction off the line is fine. But a few times this year I got a good start and jumped the car [ahead] off the line but maybe didn't go hard enough into the first corner or went for the safer inside line.
"I probably need a little bit more aggression which I guess will come with experience at this level."
He admitted this was an area where Vergne might have an edge over him at present.
"He's got potential and he's quick," Ricciardo said of his 2012 team-mate. "We drive quite similar but he has probably what I don't have in the aggressive side.
"So maybe I can learn from him, at least in the junior categories that's been his style."
But Ricciardo reckons his smooth method pays off in tyre conservation, feeling he rapidly improved at this after a tough maiden grand prix at Silverstone, and became better at using the Pirelli tyres than his 2011 team-mate Tonio Liuzzi.
"I think they suit my style," Ricciardo said. "There were more races this year I think where I had better pace than Tonio.
"Definitely at Silverstone I had very little idea and that was shown in the pace but from then on I learnt very quickly.
"It can sometimes be frustrating when they fall off a cliff and you're going four seconds a lap slower but most of the time I was making them last longer than my team-mate.
"I don't tend to grip the steering wheel very hard and I've got a bit of a smooth approach as well."