Nico Hulkenberg is confident Force India can score points from the outset of 2012
| | |
| --- | --- |
| By Edd Straw | Friday, December 23rd 2011, 11:46 GMT |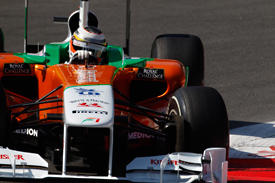 Nico Hulkenberg is confident that Force India will start the new Formula 1 season stronger than it did in 2011.
The Silverstone-based team began last year with a car based largely on its 2010 machine before starting to bring in a radical aerodynamic package at May's Spanish Grand Prix.
This upgrade allowed Force India to come within five points of beating Renault to fifth in the Constructors' Championship and Hulkenberg is hopeful that the team can pick up where it left off in 2012.
"Hopefully we will start the season a bit stronger than we did in 2011," Hulkenberg told AUTOSPORT.
"If we had the car at the beginning that we had at the end of the year then we could have achieved fifth in the Constructors' Championship.
"The aim has got to be to have a strong car from early on that can take us into the points."
But despite being upbeat about Force India's progress, Hulkenberg admitted that it will be difficult to judge where the team stands with its car until on-track running starts.
This is partly down to rule tweaks for 2012 that will outlaw exhaust blown diffusers.
"There are some rule changes with the exhausts and also the front flexi wings that have been limited now," said Hulkenberg.
"It's impossible to say where you are in terms of development. I know what we are doing, but not what others are doing."
Hulkenberg added that he was grateful to Force India for recognising his potential and giving him a race seat in a deal announced on December 16.
The 24-year-old raced for Williams in 2010 and was selected based on his performances during 14 Friday practice outings for Force India.
"I always hoped when I was driving on Fridays that they would see what I can do," said Hulkenberg.
"It's still a very early stage of my career. I'm still not at my peak and that's why they gave me the chance by giving me the car for 2012."