Q & A with Luis Perez-Sala
| | |
| --- | --- |
| By Pablo Elizalde | Wednesday, December 21st 2011, 13:17 GMT |
Luis Perez-Sala starts a new phase after being announced as HRT's new team principal following the exit of Colin Kolles.
The former grand prix driver spoke to AUTOSPORT about the team's plans and the challenges ahead.
Q. The team has made several changes in recent months, announcing a move of the racing operation to Spain and signing Pedro de la Rosa. Is there a a new approach to bet on Spanish people or is the change much more significant than that?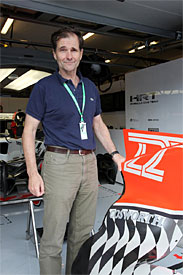 Luis Perez-Sala: What we are doing is bringing the race operation to Spain and that makes the team more Spanish, but what we want is to be competitive and to be competitive we'll have to find the best things wherever they are.
There are many capable people in Spain, but there are also many capable people in Britain, in Germany, France... We have people from many places in the team right now. And in Germany we have the aerodynamic office and the technical development part. What we are trying is to get the best at the best price.
Q. Are there plans to work exclusively from Spain in the future?
LP-S: No. Right now the plan is what I said earlier. The racing operation will be in Spain and the aero and the design parts are in Munich. We had the racing base in Greding and the people working there were based in Spain, in Belgium, in Germany, in Italy...
So what we have done is bring the base to Spain and move the racing people to Spain so we are all under the same roof to co-ordinate everything better. That's the idea the new investors had. We could have done that in Germany too, but they decided to do it in Spain.
Q. The infrastructure you are using in Munich is still linked with Colin Kolles or have you broken all ties with him?
LP-S: No, we have broken all ties with him. The part he owned was basically the racing operation, so that's what we are bringing to Spain, which is why we broke ties. The aero office we created it ourselves in September, lead by Stephan Chosse. And the design office is based in Hofer.
Jacky Eeckelaert is the technical manager of the team, supported by Toni Cuquerella, and the man in charge of the design office is Jean Claude Martens.
Q. What are the long-term plans on the engine side? Are you happy with Cosworth?
LP-S: In 2012 we will be with Cosworth and in 2013 we will see. With all the moves and the changes time is tight to have the 2012 car ready, which is our priority.
Q. Will the car be ready for the first test?
LP-S: We are going to try but it will be hard, that's the reality. What has changed this year is that you have to pass the crash tests before running and that makes it harder. We are going to try. But what you try and what you achieve are two different things. I'll tell you when we are in Melbourne. We are going to try, that's for sure.
Q. Will you test with the 2011 car if the new one isn't ready?
LP-S: It's a possibility. Maybe. If we don't make it with the new car we may do it to give some track time to the drivers, but it's something we are not thinking about because right now we are planning to make it with the 2012 car.
Q. What are goals for the 2012 after all the changes the team has undergone?
LP-S: We have finished ahead of Virgin this year, but it's going to be a year of transition. What we want is to create a solid base for the team, and we know you can't do that in a day or a month, or even a year. We want to create our small base and make it more solid step by step. It will be a year of transition and we just want the team to make progress step by step. We want to see a good progression from the start to the end of the year.
Q. Is Jaime Alguersuari a driver you are considering for the second seat after his exit from Toro Rosso?
LP-S: The thing is that it has taken everybody by surprise. Nobody expected it. I wouldn't have bet anything on that happening. So we are in pretty advanced talks with other drivers. Until everything is done I don't want to say anything, but it's going to be difficult.
Q. Any drivers you can name?
LP-S: No. Yes, Pedro (Laughs). That's for sure.
Q. Is financial backing important when choosing the second driver?
LP-S: Yes. We are a small team and we need to cover the budget as best as possible. I would like it to be different, but at the moment we don't have a choice. We hope to change that over time, but at the moment we need the support.
Q. And you also need an experienced driver like de la Rosa, despite some criticism for not having given a younger driver a chance?
LP-S: If you hire a young driver you also get criticised for not having signed a more experienced driver. There is always criticism. We are sure that Pedro is the driver we need. And that's that. We are convinced about it and we are very happy to have him. I think he's a driver - with all his experience in Formula 1 - that's going to bring a lot to a team like ours.
Q. Do you have a date set to announce the second driver?
LP-S: No. When we are done, we'll announce it. We are trying to not say anything until things are done because things change quickly and maybe speaking about it makes the talks more complicated. So we'll announce it when he's confirmed.
Q. HRT was the first team to leave FOTA. With the new direction, is there a chance of returning to it?
LP-S: That's a subject we'll discuss in the future. Right now we are fully focused on building our new car. We are not open or closed to it. It's something we'll discuss. We just want the best for Formula 1 and the best for us in Formula 1.