New HRT team principal Luis Perez-Sala aware F1 progress will take time
| | |
| --- | --- |
| By Pablo Elizalde | Wednesday, December 21st 2011, 13:13 GMT |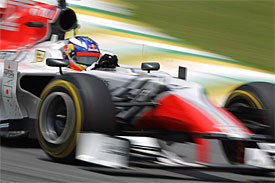 HRT's new team principal Luis Perez-Sala says making steady progress is the Spanish squad's main goal for the 2012 season, the former GP driver conceding it will be a transitional year.
HRT has changed ownership this year and has moved its racing operation from Germany to Valencia in the hope of co-ordinating the team better.
The outfit has also hired Pedro de la Rosa as its leading driver for the next two years.
Perez-Sala, who became team principal earlier this month after the exit of Colin Kolles, says the team is still facing a difficult season in 2012, aware that progress will take time.
"We have finished ahead of Virgin this year, but it's going to be a year of transition," Perez-Sala told AUTOSPORT in a phone interview. "What we want is to create a solid base for the team, and we know you can't do that in a day or a month, or even a year.
"We want to create our small base and make it more solid step by step. It will be a year of transition and we just want the team to make progress step by step. We want to see a good progression from the start to the end of the year."
Perez-Sala said the team is still aiming to have its new car ready in time for the first test of 2012, but admitted that the new crash-test rules will make it a bigger challenge.
From next year, teams will have to pass all mandatory crash tests before being allowed to test during the pre-season.
"We are going to try but it will be hard, that's the reality," he said of making the first test at Jerez. "What has changed this year is that you have to pass the crash tests before running and that makes it harder.
"We are going to try. But what you try and what you achieve are two different things. I'll tell you when we are in Melbourne. We are going to try, that's for sure."
He said testing with the old car was a possibility if the new one isn't ready.
"It's a possibility. Maybe. If we don't make it with the new car we may do it to give some track time to the drivers, but it's something we are not thinking about because right now we are planning to make it with the 2012 car."
The team is yet to confirm its second driver for 2012, but Perez-Sala said signing Jaime Alguersuari - who has lost his seat at Toro Rosso - was unlikely.
"The thing is that it has taken everybody by surprise," he said of Alguersuari's exit from STR.
"Nobody expected it. I wouldn't have bet anything on that happening. So we are in pretty advanced talks with other drivers. Until everything is done I don't want to say anything, but it's going to be difficult."
And he admitted the second driver will need to bring financial backing in order to secure the seat.
"Yes. We are a small team and we need to cover the budget as best as possible. I would like it to be different, but at the moment we don't have a choice. We hope to change that over time, but at the moment we need the support."