Ferrari boss Domenicali confident of 'no surprises' with 2012 F1 car
| | |
| --- | --- |
| By Pablo Elizalde | Friday, December 16th 2011, 14:33 GMT |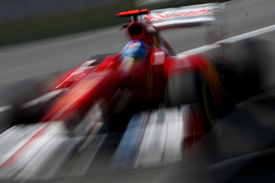 Ferrari boss Stefano Domenicali is confident his team has taken the right measures to make sure there are no surprises with its new car when the 2012 season starts.
The Maranello-based squad was upbeat about its chances for the year after a very strong pre-season testing, but it was off the pace when the racing started.
In the end, the team managed just one win and finished a distant third in the championship.
Domenicali is confident the steps the team has taken to address the situation will pay off in 2012.
"From one side we tried to react from the organisational point of view, to do some changes," Domenicali said during a video conference with fans. "And we have done quite a lot of changes and we will have some more changes at the beginning of next year.
"Secondly of course we want to make sure that, with a humble approach, we don't underestimate any area of development.
"With the new regulations there is no such a big effect on the so-called blown diffuser, so we need to make sure that the car, from a general point of view, is very efficient and is able to create downforce because that was the main problem that we had this year.
"And I have to say that we need to be realistic and I believe in the choices that our technical people have taken to make sure there are no big surprises when we start the season.
"I'm confident about the job of the people who are here day and night because there is a great will to the place where we should be."
Domenicali confirmed the new car will be ready for the first test of 2012, with a launch expected to take place the week before.
"We are targeting the first week of February," Domenicali said of the launch date. "We don't know the day exactly but that's when we should be ready with the new car."