Sebastien Ogier has 'no regrets' over 2011 season and split with Citroen
| | |
| --- | --- |
| | Friday, December 2nd 2011, 17:36 GMT |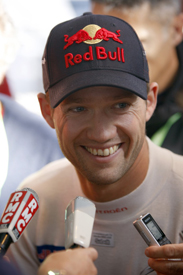 Sebastien Ogier says he does not regret anything about how his sole World Rally Championship season as a works Citroen driver turned out.
Promoted from the Citroen Junior team to a full-time factory seat for 2011, Ogier was a title contender for much of the year but also fell out with Citroen and champion team-mate Sebastien Loeb in rows over team orders.
At the end of the campaign, Ogier extricated himself from his Citroen contract and has since joined Volkswagen's new WRC programme.
"There were some bad moments, but I think we can review it as a good season," Ogier told the Race of Champions website.
"We got five victories, the same as the world champion and I'm still quite young in this category. I'm happy with that.
"I know that I can improve things and the most important thing is I have an opportunity to make a new story with a new team. I think with Volkswagen we can do some very good things in the future.
"I think you don't have to have regrets. It's part of the past. I have done some mistakes but I have also done some very good things, and for sure I have learned many things and I have to remember that for the future."
Ogier, who makes his first official appearance as a VW driver at the RoC this weekend, will spend 2012 developing the VW Polo WRC while competing in an S2000 Skoda.
"Next year will be a strange season for me because I will mostly have to develop the car and develop the team," he said.
"Still we will continue to race with the Skoda and it's important for us to continue to learn all the stages in the championship and to stay in the rhythm.
"Now the target for us is more 2013. We're starting to build a very strong and fast car to be ready to fight for victories in the WRC as soon as possible."