Sebastian Vettel compares his Brazilian GP to Ayrton Senna's 1991 race
| | |
| --- | --- |
| By Jamie O'Leary | Sunday, November 27th 2011, 18:20 GMT |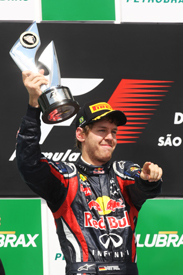 Sebastian Vettel compared his second placed finish at the Brazilian Grand Prix to Ayrton Senna's victory in the same race in 1991, after driving with a gearbox problem for most of the Interlagos event.
The world champion converted his pole position into the lead at the first corner, but was informed of a fault with his gearbox early on by his engineer, and was told to manage the problem by short-shifting in second and third gears.
Despite limiting the time loss caused, he was powerless to prevent his Red Bull team-mate Mark Webber passing him on lap 30 and driving away to victory.
"I had a good feeling and was able to pull gap at the beginning, but then I had the call to manage a gearbox problem, turn down engine and short shift," said Vettel.
"It was getting? worse, so I was using higher gears everywhere and that is where the comparison [with Senna] came into my head."
The German, who has won 11 times in 2011 and set a new all-time F1 record by taking his 15th pole of the year in qualifying, had no hard feelings about missing out on the win to his team-mate.
He instead remarked upon the amazing run he has had during the year, in which he became world champion with four races still to go.
"I don't really call this bad luck. Surely if something like this happens, it is not in your hands," he added.
"In the end, we had a pretty amazing season and I think it would be over the top being upset now. I think we take this second place and the one-two finish for the team, which is great. It has been a phenomenal year and a very strong finish now as well.
"Sure, I would have loved to win the race in the normal way today, but nevertheless we had a great season. It's a year to be proud of."