Ferrari insists it 'has learned lessons of 2011 season'
| | |
| --- | --- |
| By Jonathan Noble | Sunday, November 27th 2011, 11:57 GMT |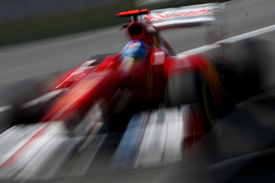 Ferrari duo Fernando Alonso and Felipe Massa believe the team has already addressed its weak areas - which leaves them both confident it can put its disappointing season behind it and return to title glory in 2012.
Ahead of the final race of the season in Brazil, both men think that although the results this year have been below what the team was expecting, they have at least allowed the Maranello outfit to understand where it was not good enough and what needed to be improved if it is to take on Red Bull Racing in the future.
"We have learned about mistakes at the factory in Maranello, and about the windtunnel problems," said Alonso. "We have learned about the tyres' behaviour – they were new Pirelli tyres for everyone. We did a lot of work in the winter. We thought we understood them quite well but in the races it was always different, so we kept learning every race about the tyres and about how they performed throughout the race.
"We learned about strategies and about the approach to races, with a less conservative approach in terms of qualifying, in terms of starts, in terms of strategy.
"There were so many things we learned in 2011, not only us but all the teams. For us they were important steps to go ahead, because I think in some areas we were not strong enough this year and now we are. So I am much confident for the future with the team as is it now."
Massa believes that the level of Red Bull Racing's dominance this year has shown Ferrari that it cannot afford to be weak in any area if it is to deliver the title back to Maranello.
"For the development of next year's car, for the work for next year's season, for myself as well I think it is important to have everything perfect," explained the Brazilian.
"We need to win again the first race and, for sure, then you are in a good direction to be competitive and be back in the first place, like we were doing for many championships.
"There were many disappointments for us this season. Definitely we did not have the car we expected, and there were so many races where so many things happened to me.
"They [Red Bull Racing] had a great pace in the qualifying, especially in the first part of the season, so it was definitely not a positive championship. But it is important that we are fresh in mind to work at a different level, and I am sure we can be next year."