Red Bull F1 team chief Christian Horner wants progress on RRA at FOTA meeting
| | |
| --- | --- |
| | Thursday, November 24th 2011, 22:02 GMT |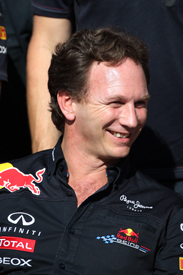 Red Bull team principal Christian Horner has urged fellow Formula 1 bosses to be 'open minded' in a crunch meeting about the future of the sport's Resource Restriction Agreement, which takes place in Brazil on Friday.
The Formula One Teams' Association is due to meet in downtown Sao Paulo to discuss the RRA, with disagreements about its scope and implementation having yet to be resolved.
The issue has become so important that there have been concerns that if no deal is reached on RRA then it could threaten the future of FOTA itself.
Horner said on Thursday that he hoped progress could be made in the Brazilian meeting, and he hoped team bosses would approach the meeting with the right attitude.
"I think people need to be open minded going into the meeting," he told AUTOSPORT.
"It is important that a direction with RRA is resolved. It is an issue that is crucial to resolve quickly if FOTA is to have a chance of succeeding in the areas that it needs to focus on.
When asked how confident he was on progress being made on Friday, Horner said: "It is wrong to speculate, let's see how meeting goes tomorrow."
Mercedes team principal Ross Brawn believed that perhaps the best way forwards would be for the RRA to be taken out of FOTA's remit.
"I think it depends if we are seek to separate RRA from FOTA, which is something I advocate," said Brawn about the importance of Friday's meeting.
"FOTA shouldn't get involved in areas of competitive differentiation between teams - although you can argue everything is related to it - but this is a particularly sensitive area.
"I believe the teams should separate RRA from FOTA's initiatives and?objectives because FOTA has a great role to play in terms of promoting?the sport, taking initiatives on improving it, the racing and some of?the things we have now.
"I think FOTA has a role to play in that area, particularly with the commercial negotiations coming up. And what we don't want are arguments about RRA, or whatever is contentious at the time, damaging the function of FOTA. I think the RRA is heading in the right direction now and I think we will find some solutions."